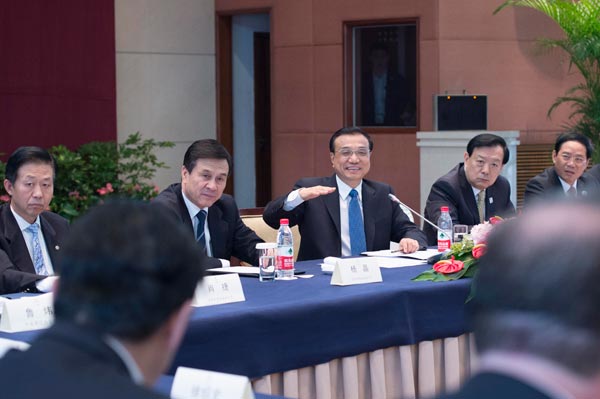 Chinese Premier Li Keqiang (C rear) speaks during his meeting with representatives attending the World Internet Conference, in Hangzhou, East China's Zhejiang province, Nov 20, 2014. Wang Ye / Xinhua
China is considering setting up its own rules in cyberspace in order to have its voice better heard in the fast growing Internet sphere.
Premier Li Keqiang said China wants to promote an interconnected world that is shared and governed by all and to construct a common code of rules to make competition more fair.
He made the remarks in Hangzhou, Zhejiang province, on Thursday at an Internet-themed meeting with global corporate leaders who are participating in the three-day World Internet Conference in nearby Wuzhen township.
"Dynamics and order are the two faces of the Internet. Without dynamics, the Internet will lose its vitality, while without order, the Internet is not secure," Li said.
"As the cyberworld is bound to be shared by everyone, it should also be governed by all of us. I refer to both laws and self-discipline," Li said.
The three-day conference, held in Wuzhen, an ancient town in Zhejiang province, provides a platform for communication for more than 1,000 Internet titans from more than 100 countries and regions, according to the Cyberspace Administration of China, the nation's top Internet watchdog.
Experts said China is using the platform to sell its own strategy and rules to the world, a mission that the world's largest cyberpower with the most Internet users has deemed significant and urgent.
China's netizen population reached 632 million by the end of June, while mobile Internet users totaled 527 million.
Shen Yi, an associate professor specializing in cybersecurity at Fudan University, said China is an indispensable power in global connectivity.
The US has its own strategy on cyberdevelopment and cybersecurity, which China does not. But after Edward Snowden's disclosures on US Internet spying, China has realized the importance of such a strategy and it is exactly the time to work on it, Shen said.
"China has the capability now to set up international rules for cyberspace and use our strategy and our rules to influence the world."
"It will not be easy to reach consensus, and there will always be differences among countries. But as long as the floor for discussion is still open, it will not be a big issue."
Li Yuxiao, director of the Institute of Internet Governance and Law under Beijing University of Posts and Telecommunications, said China has demonstrated its confidence and boldness in cyberspace, as the country feels the necessity to find its role in the development of the Internet.
"Now is the time for China to realize its responsibilities. If the US is willing to give up its running of the Internet sphere, the question comes as to who will take the baton and how it would be run? All this requires discussion," Li Yuxiao said. "China is transforming from a participant of the Internet into having a leading and dominant role in it."
"We have to first set our goal in cyberspace, and then think about the strategy to take, before moving on to refining our laws."
Li Yuxiao noted that Chinese Internet-based companies, not only the government, have to take their shared responsibility in developing facilities, operating systems and applications as concrete steps to carry out China's strategy on the Internet.