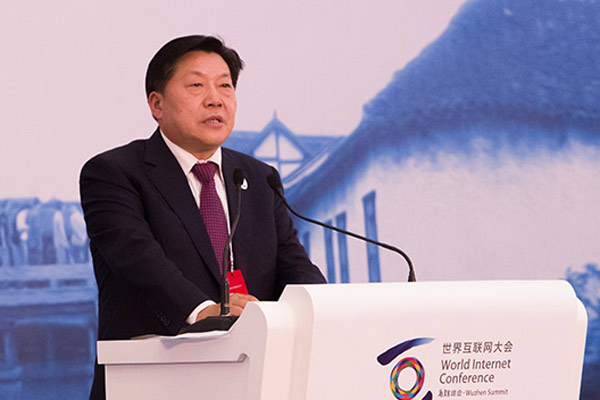 Lu Wei, Minister of the Cyberspace Administration, delivers a speech at the World Internet Conference in Wuzhen, East China's Zhejiang province, Nov 19, 2014."We should keep mutual respect and mutual trust in cyberspace, share governance, and strive for win-win cooperation". [Photo/ wicnews.cn]
The World Internet Conference has achieved its expected results by providing a platform for interconnectivity where the Internet is shared and governed by all, said Lu Wei, minister of Cyberspace Administration of China, to Phoenix News on Thursday.
"We can disagree, but not without communication," said Lu. "Now it seems like we do have consensus, which outweighs the difference."
According to Phoenix News, Lu said the conference was a success in setting up two platforms, for China to interconnect to the world with all parties seeking consensus in the Internet development and security, and for a world shared and governed by all to better understand China.
The three-day World Internet Conference, held in Wuzhen, a historical town in Zhejiang province, has attracted more than 1,000 Internet titans from more than 100 countries and regions, according to the Cyberspace Administration of China.
Experts said China is using the platform to sell its own strategy and rules to the world, a mission that the world's largest cyberpower with the most Internet users has deemed significant and urgent.
China's netizen population reached 632 million by the end of June, while mobile Internet users totaled 527 million.
The nation has made tremendous progress in Internet development in the past decade with the most active Internet-based e-commerce in the world.