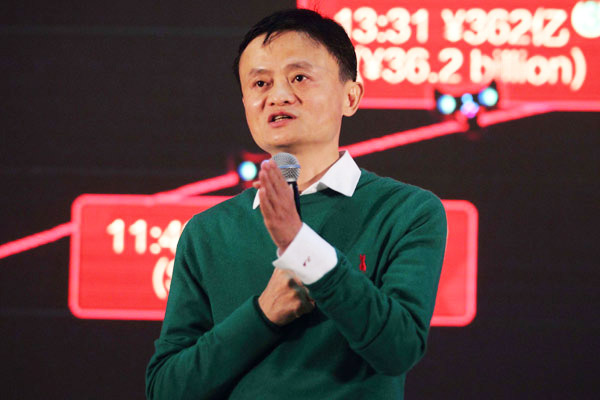 Jack Ma, co-founder and chairman of Alibaba, during an interview on Tuesday at the company's headquarters in Hangzhou, capital of Zhejiang province. [Dong Xuming/China Daily]

Small screens propel record transactions, reflecting surge in smartphone use
Singles' Day, which falls on Nov 11, is the biggest online shopping day of the year in China. It is a 24-hour buying spree that sees people practically throw money at screens.
Despite their small sizes, the screens of mobile devices emerged as a driver of the record sales during this year's event, reflecting the rapidly increasing smartphone penetration rate in China.
Alibaba Group Holding Ltd said it set a record, becoming the world's largest mobile e-commerce platform on Tuesday, as 42.6 percent of its Singles' Day transactions came via mobile devices.
The company said sales on its platforms on Tuesday surged to 57.1 billion yuan ($9.3 billion) from 36.2 billion yuan last year.
Total transactions on Alibaba's mobile platforms, such as the mobile app for Taobao, hit 24.3 billion yuan on Tuesday, more than four times the amount last year.
Beijing Jingdong Century Trading Co, which operates JD.com, China's largest online direct sales site, also saw a huge jump in sales on Tuesday. The company said that more than 40 percent of its orders were placed via mobile devices, or eight times the year-earlier level.
"China has a unique landscape powered by 302 million online shoppers, where mobile Internet users exceed PC users and where social media is one of the key factors driving e-commerce," said Burghardt Groeber, vice-president of greater China for enterprise software provider hybris AG, a division of Germany-based SAP AG.
In a report titled The State of E-commerce in China, released on Singles' Day, hybris forecast that the nation's mobile shopping market value would top 1 trillion yuan by the end of 2017.
According to Internet consultancy Analysys International, there was a surge in traffic for the apps of major e-commerce companies from 6 am to 10 am on Tuesday - and an even larger surge from 10 pm to midnight. Analysys said these spikes signal that people tend to use mobile devices to shop when they are in bed, killing time or during their commutes to work.
Mobile devices are also important for e-commerce companies to reach online shoppers in rural China, where mobile penetration far outpaces fixed-line Internet penetration.
Jack Ma, co-founder and chairman of Alibaba, said on Tuesday that the company aims to tap more rural consumption via mobile devices.
"We hope to help more people in China's rural areas enjoy the same modern life as those who live in big cities," he said, adding that there are huge differences in brick-and-mortar stores in big cities and villages due to geographic and economic factors. Offerings online can help close those gaps, he said.
At a glance
Top sellers on Tmall on singles' day
1. Beijing Xiaomi Technology Co Ltd
Smartphones
2. Huawei Technologies Co Ltd
Smartphones
3. Haier Group Co Ltd
4. Linshimuye Co
Furniture
5. Uniqlo Co Ltd
Dresses