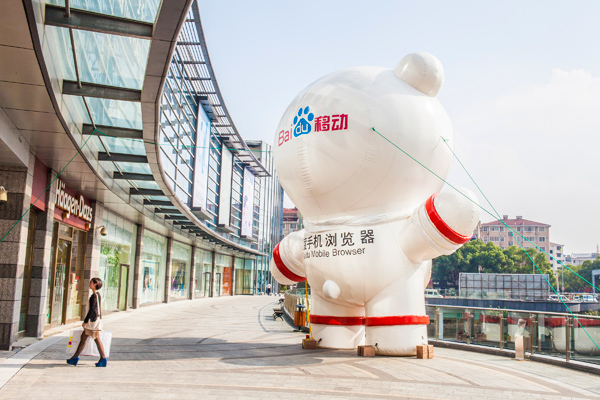 An inflated bear marked with the Baidu Inc logo welcomes shoppers at a plaza in Suzhou, Jiangsu province. [Provided to China Daily]
Baidu Inc's third-quarter sales missed analyst estimates as the owner of China's largest Internet search engine pushes deeper into mobile services.
Revenue climbed 52 percent to 13.5 billion yuan ($2.2 billion) from 8.89 billion yuan, the Beijing-based company said in a statement. That compared with the 13.6-billion-yuan average of 12 analysts' estimates compiled by Bloomberg.
The company also issued a sales forecast for the fourth quarter that fell short of predictions.
Baidu's costs have climbed as billionaire founder Robin Li invests to add services that help shoppers find retail stores and retrieve product information as search increasingly shifts from desktop computers to mobile devices such as smartphones.
"Top-line growth is the key priority," wrote Alicia Yap, an analyst at Barclays Plc in Hong Kong, in a Monday report. "It will continue to spend and invest in traffic acquisitions, brand marketing campaigns and product promotions."
Net income rose 27 percent to 3.88 billion yuan in the three months ended September from 3.05 billion yuan a year earlier, compared with the 3.46-billion-yuan average of eight analysts' projections compiled by Bloomberg.
Baidu shares recovered after falling as much as 7.3 percent in extended trading after the earnings announcement. The stock earlier declined 1.9 percent to $224.55 at the close in New York, leaving it up 26 percent this year.
The company in August joined Dalian Wanda Group, China's biggest commercial land developer, and Tencent Holdings Ltd in an online shopping venture to challenge Alibaba Group Holding Ltd.
In September, Baidu agreed to invest in mapping company Indoor Atlas Ltd, which allows users to find their way through shopping malls and office buildings.
The goal is to help sell more advertising by connecting users of mobile devices with nearby brick-and-mortar businesses.
The company is also investing in new interfaces to simplify mobile search. Voice and image recognition will account for about half of searches within five years, Li said last month.
During an earnings call on Thursday, Li said Baidu is well-positioned to capture more mobile search traffic and must decide how to make money from it.
Baidu has now forecast fourth-quarter revenue of 13.85 billion yuan to 14.25 billion yuan, which compares with the 14.2-billion-yuan average of 10 analysts' estimates.
In China, the company accounted for 76.2 percent of search engine queries in the second quarter, according to Bloomberg Intelligence. Qihoo 360 Technology Co was second with 16.5 percent, and Sogou Inc was third with 4.9 percent.