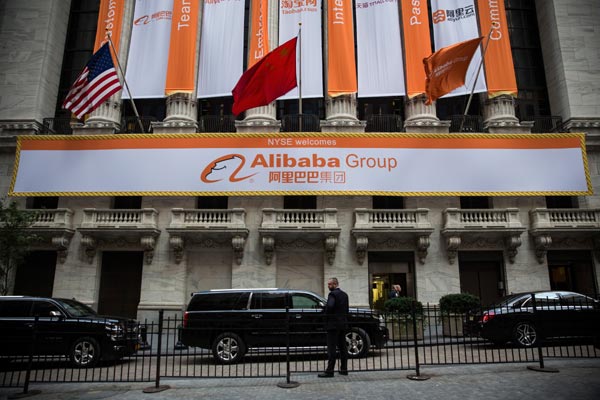 Buying Youku Tudou Inc outright, China's most popular video-streaming website, would let Alibaba Group Holding Ltd deliver US films and drama series to more than one-third of the population. [Photo/Agencies]
Experts put the two together as Ma pursues his Hollywood dream
As billionaire Jack Ma browses Hollywood for movies and TV shows, he may discover that part of what he needs is actually in his own backyard.
The founder of Alibaba Group Holding Ltd toured California this week, looking for content to beam to Chinese consumers.
But buying Youku Tudou Inc outright, China's most popular video-streaming website, would let Ma deliver US films and drama series to more than one-third of the population.
Alibaba already owns about 17 percent of the company, which has a market value of $3.9 billion.
"It's strategic for Alibaba to buy out Youku Tudou and find a home for all of its video content," said Castor Pang, head of research at Core-Pacific Yamaichi in Hong Kong, adding a deal would "increase Alibaba's appeal as an all-in-one Internet juggernaut."
With rivals such as Tencent Holdings Ltd expanding their own digital reach, Alibaba needs Youku's 500 million users to protect its position as China's largest e-commerce company, according to CM Research Ltd.
iResearch estimates that China's online video market could more than double to 40 billion yuan ($6.5 billion) by 2017 as consumers watch everything from home-movie clips to entire films on smartphones and tablets.
"As more and more people spend time watching online video, it becomes more important for Alibaba to bring these people into its ecosystem," said Cyrus Mewawalla, a London-based analyst at CM Research, and he considers Alibaba is Youku's biggest shareholder the most likely buyer.
Youku, which has slumped 38 percent this year in New York trading, on Thursday climbed 0.7 percent to $18.88. Alibaba advanced 0.4 percent to $98.73.
Like Alibaba, Youku is zeroing in on US studios for programming.
The company, which mostly streams professionally produced content rather than amateur videos, plans to collaborate with US entertainment producers to create content that could be watched on its website, said Chairman Victor Koo in an interview in Hong Kong this week.