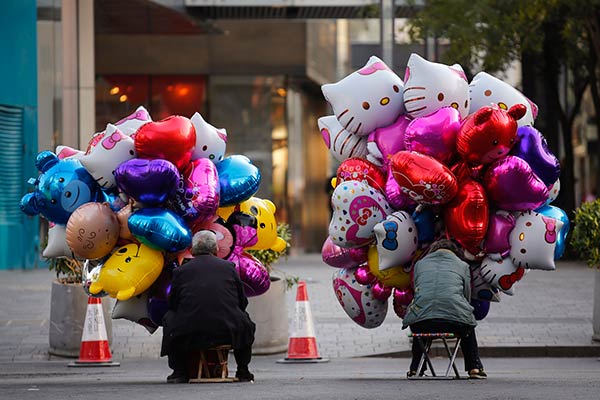 Balloon sellers wait for customers at a shopping district in Beijing October 16, 2014. [Photo / Agencies]
China's consumer market has seen a significant slowdown in growth over the past two years, according to an industry survey.
The data, from market researcher Kantar World-panel, shows growth in the sector fell from 15.8 precent in the year to June 2012, to 5.6 percent in the period ending June 2014.
The study also reveals that growth in sales of fast moving consumer goodsproducts sold quickly and at relatively low cost, or FMCGs across other emerging markets slowed too, from 8.8 percent in the year to June 2013, to 7.5 percent in same period ending June 2014, a clear knock-on effect of the cooling global economy.
The research forecasts a further regional reduction by June 2015 to 7 percent.
Jason Yu, general manager at Kantar World-panel China, said the drops are largely being driven by a slowdown in consumption, with FMCG sales growth currently running at 5.2 percent, down 3.6 percentage points compared with last year at the same time.
Despite still performing strongly compared with many mature markets, such as those in Europe and North America, the reduction in emerging market growth is significant, according to the report.
Yu said slowing economic growth across many emerging economies has led to shoppers reining in their spending on everyday goods.
"We now face a new reality, where FMCG growth is more moderate.
"Competition will become fiercer as the size of the prize shrinks. Brands will need to be even smarter when deciding which markets to target, and when to change their approach within each country," he said.
As China makes up 69 percent of the emerging Asian market, it influences the whole region, said Yu.
Packaged food, which makes up the largest share of Chinese consumer spending, was hit the hardest of all areas, growing by just 1.8 percent last year compared with 16 percent in the 12 months ending June 2012.
Yu said he expected overall FMCG sales momentum to pick up in China once spending on packaged food recovers.
In other areas of the consumer market, the report highlighted e-commerce spending as gaining significant momentum across emerging markets, making it the new prime target for leading brands.
E-commerce in China is forecast to account for 3.3 percent of all FMCG sales by 2016, an optimistic trend that will continue across the region, said Yu, as more is spent by companies on investment in technology and infrastructure.
Yu said growth in emerging markets is still considered relatively high in global terms.