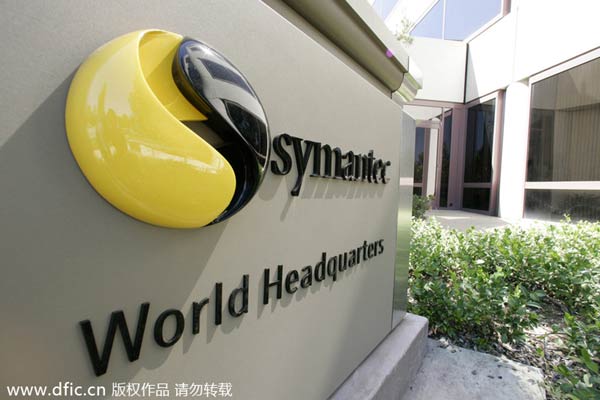 Symantec, manufacturers of the Norton series of software products including Norton Anti-Virus, has its worldwide headquarters in Cupertino, Silicon Valley, close to San Jose in California.[Photo/IC]  
California-based security solution provider Symantec Corp said its products have not been banned by the Chinese government after Chinese media reported that the company has been excluded from a list of approved anti-virus software vendors by the government procurement agency.
Symantec said in a statement, which was released on Tuesday, that the company is aware of media reports about the company not being on a China government procurement agency list of anti-virus suppliers.
"It is important to note that this list is only for certain types of procurement and Symantec products are not banned by the Chinese government. We are investigating this report and will continue to bid for and win governments projects in China," said the statement.
The People's Daily reported on Sunday that the government's procurement agency "has excluded Symantec and Kaspersky" from a list of security software suppliers.
It also said that the government procurement office had approved the use of five Chinese anti-virus software products from Qihoo 360Technology Co, Beijing Venustech Inc, CAJinchen, Beijing Jiangmin New Science and Technology Co Ltd and Beijing Rising Information Technology Co Ltd.
Being excluded from the government's procurement list will significantly hurt Symantec and Kaspersky's business in China, as the government is a major buyer, contributing 23 percent of the total revenue to the Chinese security market, according to analysts from IDC China.
Public relation officials with Kaspersky Lab's said in an updated statement on Tuesday that there is no evidence that Kaspersky Lab products have been banned by the Chinese government as has been reported by some media outlets.
"The Chinese Central Government Procurement Center temporarily rescinded its endorsements of all foreign security providers, leaving only Chinese vendors on the approved list. However, this restriction only applies to national-level institutions whose funding comes from the central government procurement budget, and does not include regional governments or large enterprises. We are investigating and engaging in conversations with the Chinese authorities about this matter. It is too premature to go into any additional detail at this time," said the statement.