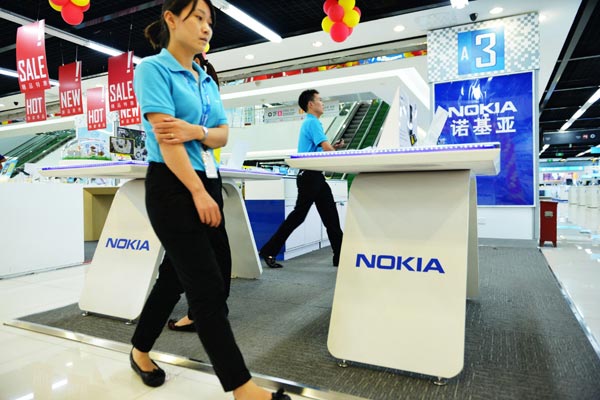 A Nokia store without customers in Hangzhou, Zhejiang province. Employees of Microsoft Corp's Nokia group in Beijing are worried about the company's massive layoff plan. [Photo/China Daily] 
More than 4,000 Nokia workers may lose jobs next month amid downsizing plan
Fears and frustration are mounting among employees at Microsoft Corp's Nokia segment in China as the 5,000-person group is likely to take the strongest layoff hit across the globe.
Microsoft plans to eliminate almost all the jobs at a development and research site and two manufacturing plants in the country, letting go 3,000 to 4,700 workers, a person familiar with the matter told China Daily on Monday.
"The newly purchased Nokia assets are set to be the largest source of job cuts in China," the source said on condition of anonymity because the topic is sensitive.
Microsoft inherited the three facilities about three months ago as part of its $7.2 billion acquisition of Nokia's devices and services unit.
The research site has about 2,700 employees, developing low-end smartphones and feature phones.
"The words we heard are that only 300 employees will keep their jobs and the rest will be sacked with little compensation by September," said an employee at the Nokia site who asked to be addressed as Bingo.
Only a low-end feature phone team will survive the layoff, said Bingo. That means more than 2,000 mobile phone developers will have to start looking for new jobs.
"For many of us, losing the job at Nokia will also kill our dreams to stay in Beijing," Bingo said, adding that Microsoft broke its promise not to cut jobs at Nokia in the first year following the acquisition.
Hundreds of Microsoft employees at Beijing's Nokia development site held a protest on Friday against "unequal" and "impersonal" treatment. On Monday, the protest ended as thousands of employees eagerly awaited negotiation results between Microsoft and a labor union.
"They (Microsoft) gave Nokia's Taiwan staff two more months of salary than us, and the offers for employees in Japan are even better. We have no reason to accept unequal treatment and let go of our own rights," said an employee surnamed Wei.
Microsoft said it is aware of the disagreements regarding the severance plans and that talks with the labor union aiming to settle the disputes are underway.
Microsoft's new CEO, Satya Nadella, announced the biggest downsizing plan in company history in mid-July, cutting 18,000 jobs worldwide. The biggest layoffs are occurring in the Nokia unit as the company strives to focus on cloud business in the future.
A source within Nokia told China Daily the initial layoff quota on the Chinese mainland was not as widespread because the low-end phone business is easily the most profitable in the country.