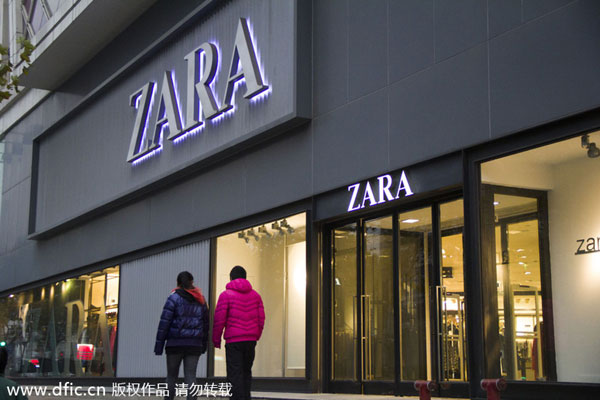 Pedestrians walk past a store of Zara in Shanghai, China, Dec 26, 2013. [Photo/IC]
Spanish fashion brand Zara will enter China's largest online shopping platform Tmall to attract more online consumers and to reach new audience, especially those living outside the major cities.
Zara's purpose has always been to provide best quality at the fairest price throughout the year, and this will not change by joining Tmall, said a spokesperson.
"We believe that Tmall offers a great opportunity to expand Zara's e-commerce offering in China and are confident that we will be able to reach Tmall's extensive online audience while maintaining Zara's brand image," according to the spokesperson. "We will also continue to run our own Zara online sales platform in China as normal."
Inditex' Pull&Bear and Bershka already have a presence on Tmall. There is no news on future brands coming on Tmall at the moment. But it would be a natural progression for more brands to join Tmall in the future.
So far there are 450 Inditex stores in China, of them 152 of those stores are Zara.
In April, the United Kingdom-based luxury brand Burberry Group Plc opened a virtual store on Tmall. This is not the first attempt by high-end brands to tap China's 1.84 trillion yuan ($294 billion) e-commerce market.