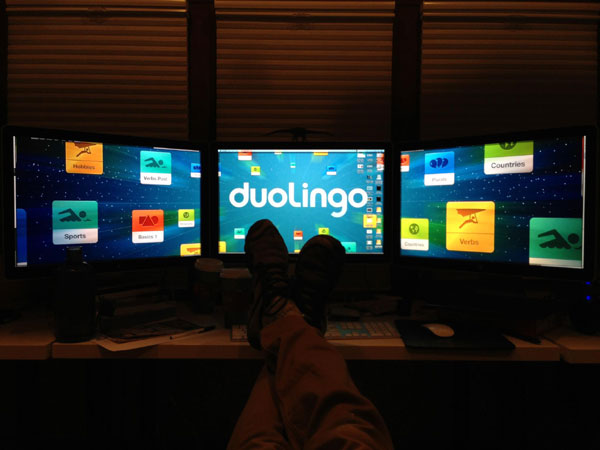 The desktop of one of Duolingo designers. [Photo/Official Facebook account of Duolingo] 
Without a penny spent on advertising, Duolingo, a United States-based language-learning application, has become the largest online educational app on iPhone's iOS system and Google Play, gaining 30 million users in the two years since it was launched.
The startup, with 35 employees, plans to replicate its business miracle in the West by launching its app in China to help Chinese people learn English.
"There are 250 million people learning English in China," said Luis von Ahn on Tuesday. "The market is humongous."
The 34-year-old, who sold his company reCAPTCHA-which heightens website security by asking users to enter wor
ds
seen in distorted text images-to Google in 2009, said China can become the largest market for his latest brainchild, Duolingo, despite the fact that almost all of the app's users are in
North America
, South America and
Europe
, learning such languages as English, French, Spanish and Portuguese.
It is well-known that China has the most people learning English in the world, said von Ahn, whose company launched an iOS-based app for Chinese to learn English a month ago and is expected to launch an Android-based app in a few weeks.
According to the Guatemalan-born, US-educated von Ahn, the iOS-based app gained 1.5 million users in its first week, which made China the second-largest market for Duolingo. The huge market potential caused Duolingo to decide to equip the China market with a locally based manager, its first country manager in the overseas market.
Apart from English, Duolingo is expected to allow Chinese to learn French and Japanese by the end of this year and expand to other foreign languages learning sessions later.
The top reasons for Duolingo's huge success in the West is that the app is free and the learning process is very entertaining, said von Ahn.