The digital gender gap is greater across developing Asia than elsewhere
International Women's Day is a time to reflect on the ways in which technology changed my life and that of every woman. Our lives have been transformed through new tools to share and connect, and that has helped us change the lives of those around us.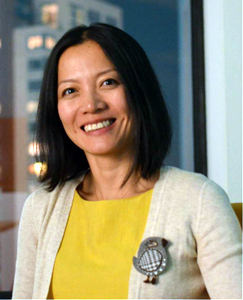 Cai Xinmei [Photo / Provided to chinadaily.com.cn]
But there's a lot more potential -- and need -- for women in Asia when it comes to technology, especially in the field of computer science. In many countries many women don't even have basic access to technology and Internet.
According to a report released on September last year by the Broadband Commission Working Group on Broadband and Gender, there is a "significant and pervasive tech gap" in access to information and communication technologies in the world. There are currently 200 million fewer women online than men, and the gap could grow to 350 million within the next three years if action is not taken, said the report.
Even if all these women come online, they could still face the larger challenge that women face in moving beyond being just tech consumers to becoming tech creators.
Achieving greater gender diversity in computer science requires addressing several fundamental issues.
First, girls need to be taught basic digital literacy so that they develop an interest in computing before reaching their teens. Starting young opens minds to the endless possibilities of the technology can have real impact on communities.
Second, tech is often perceived to be a man's world with formal and informal support structures that work great for men, but not women. The result is that young women don't get enough encouragement from parents and teachers to pursue a tech career. This is mostly because there's great misunderstanding about what a technical job really has to offer.