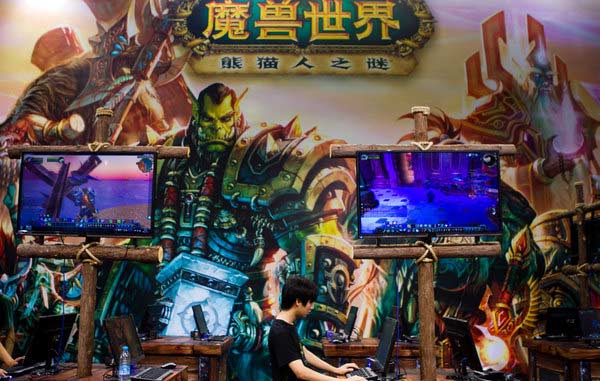 A vis
ito
r experiences the World of Warcraft at the China Game Development Conference, or China Joy 2013, in Shanghai, July 25, 2013.[Photo/ CFP]
The latest data from Activision Blizzard indicates that players of World of Warcraft have decreased from 8.3 million to 7.7 million in the last quarter, Xinhuanet.com reported.
The famous game that once witnessed more 12 million registered players at its peak, has lost out to more free and competitive games sprouting from the Chinese market such as Leagues of Legends which threatened the quantity of former players in World of Warcraft.
AB has announced recently that they would pay more attention to major adjustments of the game as well as narrow down the size of the development team to the new MMO -- mass online interactive games -- projects like "Titan". Nowadays, the market is more competitive than before.
Although the number of players has decreased 0.6 million, World of Warcraft is still the most popular and profitable mass interactive game all over the world.
Some new MMO games will be released in the short term such as The Elder Scrolls Online and Wild Star. AB hopes to make some adaption so that it will maintain the leading position in the game market. For instance, Guild War 2 will be updated every two week only despite only being charged once. Other kinds of games, simultaneously, adopted free modes to appeal to more new players
AB has already tried to halt the loss such as building in-game stores in Asia, establishing more new and free games for casual players.
Some insiders suggested the product life cycle of World of Warcraft is vital and the game could have passed its shelf life. The darling of the online game industry has lingered for a long time and lost some of its fashionable appeal. The loss of two million players in last two quarters is an incredible shock for management at World of Warcraft.