Study calls for online games rating system
BEIJING - Chinese parents are in grave need of a sound age rating system for online games to protect their children, according to a study report released on Saturday.
The country still does not have a unified content rating system for the online games industry, which relies on individual games developers to class their own products into suitability-related groups.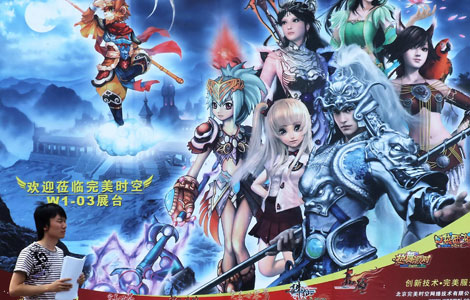 A man walks past a poster for an online game in Shanghai in this July 17, 2008 file photo. [Photo/Asianewsphoto]
According to a report issued by the the government-backed www.youth.cn, only 39 percent some 423 games were age-rated by the publishers.
In addition, 51 percent of those labeled with an age restriction failed to pass a third party evaluation on their ratings, said the report, which was based on the website's assessments on those 423 games from October 2011 to last December.
Based on its own standard, the report found that 78.5 percent of the games should be restricted to adult players above 18, while only 2 percent were good for children above 6.
However, about 80 percent of China's over 564 million Internet users are minors, who definitely need more children-friendly or teenager-friendly games, according to the report.
Moreover, the report also summarized the major problems for online games, which were actually not violence, pornography or horror elements, as only 3 percent of the games failed to pass these tests.
In-game-purchase traps were found in 58 percent of the games and gambling features in 35 percent, said the report, adding that 40 percent of the games does not have anti-addiction mechanisms.
It also noted that children-friendly games are striving to survive, as 13 qualified games had been shut down by their operators so far.
Those children-friendly games deserve more favorable policies and financial supports, said the report.
China's online gaming industry took in revenue worth 24.84 billion yuan ($4 billion) in the first half of 2012.