Increase in mobile platforms will boost number of users, say experts
China's online gaming industry is set to grow rapidly as the nation connects more people with broadband Internet, said Mike Morhaime, president and chief executive officer of Blizzard Entertainment, a United States video game developer.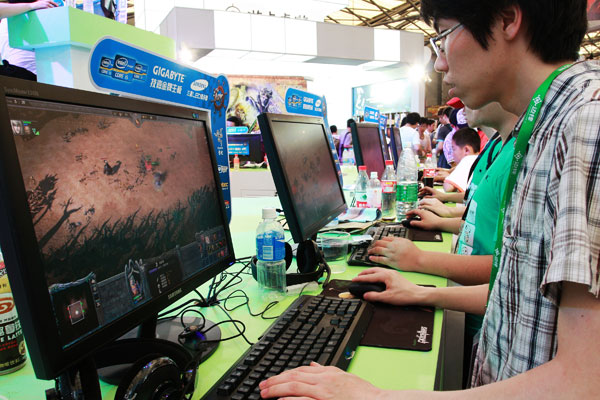 Visitors playing online games at a recent digital entertainment expo in Shanghai. Digital entertainment has huge market potential in China. Provided to China Daily 
With its existing broadband access, China is already the world's largest market for online games and it will continue to grow quickly, said Morhaime.
"To have a good experience means the company should keep every player updated and keep the content updated," he added. "To be able to do it quickly and conveniently for our players is dependent on a good Internet connection."
Morhaime also said the reliability of the Internet infrastructure is key for online gaming operators.
The number of Chinese residents on the Internet hit 550 million in the third quarter of this year, said Zhang Feng, director of the communications department under the Ministry of Industry and Information Technology.
Blizzard is the developer of world-famous games including Starcraft and World of Warcraft, which have millions of players globally.
Launched in 2009, the company has teamed up with NetEase Inc, a Beijing-based Internet and online game services provider, to release games into the Chinese mainland.
The cooperation helped NetEase to make a profit initially but the deal failed to boost the company's online game sector because the rate of increase in the number of China's PC players slowed over the past two years.
Decreasing revenue from World of Warcraft "partially offset" NetEase's earnings from advertising services and the company's self-developed online games, said a third-quarter report from NetEase.
Earlier this year, the Chinese company renewed its license with Blizzard for World of Warcraft in the region amid declining revenues from the game.
"Both Blizzard and NetEase value the user experience and putting the product first, making sure that the product is right before releasing it," said Morhaime, adding that based on this common ground, the companies were able to maintain cooperation and make similar decisions.
Related Readings:
Online game gets Chinese inspiration

NetEase's profit up on online games, ads

Mobile gaming market reaches 1.2b yuan in Q2

Online gaming sector recovering