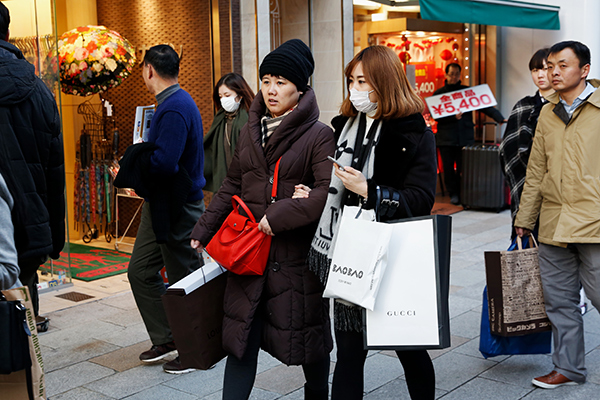 Chinese tourists in Tokyo's Ginza shopping district in Japan during the Lunar New Year Holiday.[Photo provided to chinadaily.com.cn]
Being in the later stages of my pregnancy, my first destination upon arrival in Japan for a holiday with my husband during the Spring Festival was neither a tourist spot nor a hotel.
Instead, my first port of call was a Lawson convenience store at the airport, a savior for those needing extra calories to damp down their hunger from time to time.
Lawson surprises me every time I go to Japan, with its innovative ranges of meals, snacks and sweets. However, what surprised me even more this time was the presence of Alipay in the store, the online payment arm of Chinese e-commerce giant Alibaba Group Holding Ltd.
Online payment services such as Alipay are now so popular in China that I, like most of my friends, barely take any cash while shopping, no matter whether in a supermarket for groceries or dropping by a cafe for a latte, but I never imagined that I would enjoy such convenience abroad.
So while queuing up at the checkout, I connected my smartphone to the Internet and completed the payment for my sushi roll and yogurt in just two seconds.
The salesman told me that Alipay had only been made available at the store for a few weeks, but it was already a roaring success with visiting Chinese tourists.
I told him that the reason it was so popular was that tourists would prefer another method of payment because they generally only have large-denomination bank notes upon arrival.
Indeed, he noted that scanning the payment code from a smartphone is also more convenient than taking a 10,000 yen ($88) bill and giving the customers a handful of coins in change.
I searched the Internet while waiting for a taxi, and found out that Alipay mobile payment has been available at Lawson convenience stores in Tokyo's Narita Airport since Jan 25, and would expand to thousands of convenience stores throughout Japan in the near future.
In addition, the online payment platform has also partnered with Japanese department store Abeno Harukas Kintetsu to make payments more convenient to attract more Chinese customers at four of its Osaka department stores.
Japan has become a top travel destination for Chinese tourists in recent years with its matured travel industry, with nearly 5 million Chinese visitors heading to Japan in 2015, twice the number in the year before.
Our peers have also outstripped travelers from other countries in terms of expenditure, with each one spending $2,446 on average.
Eyeing the opportunity, some Chinese payment service providers are already stepping up their expansion abroad, such as UnionPay, which has been available in many Japanese shopping malls and convenience stores as well as e-commerce giants such as Rakuten Inc and Yahoo! Shopping Japan.
Alipay, the rising popular online payment platform, certainly doesn't want to miss out on the action.
The payment tool is now available in more than 50,000 hotels, shopping malls and convenience stores overseas, and tax refunds can also be conducted via Alipay in 24 countries.
Online payment is getting more popular than ever in China, and even my mother does her daily grocery shopping with a scan of the code rather than a handful of cash. So for Alipay, whose presence in China's major cities is gradually stabilizing, expanding its business overseas is definitely one of the main directions for the e-commerce giant.
However, I believe Alipay's expansion overseas has broader horizons than just Chinese people traveling abroad.
With the assistance of the increasing number of Chinese outbound tourists, who will help promote Alipay's brand overseas, it is believed Alipay will gradually bring itself wider acceptance among overseas users, just as UnionPay did abroad by courting the favor of both Chinese abroad and foreign users with its subsidiaries and preferential payment policies.
So the battle for travel-related spending is likely to get fiercer as some payment platforms such as Alipay and UnionPay are also pushing forward their overseas expansion.
Together with its domestic rivals including Tencent Holdings Ltd' WeChat payment, international rivals like PayPal Inc and Apple Inc's Apple Pay will make the battle even fiercer.
The tough battle is likely to end up with more payment subsidiaries and discounts, definitely a favorable result for overseas shopaholics like me.