Three Chinese car firms plan new tech cooperation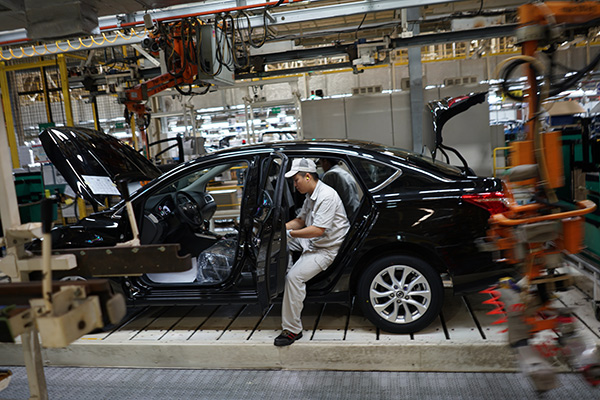 A worker on the production line of Dongfeng Motor Corp in Guangzhou, capital of Guangdong province. Provided to China Daily
Three State-owned Chinese automakers on Friday announced a broad-ranging cooperation plan to promote technological innovation, optimize full-value chain operations, expand global markets and explore new business models.
The agreement among FAW Group Corp, Dongfeng Motor Corp and Chongqing Changan Automobile Co was signed on Friday in Wuhan, Hubei province, where Dongfeng is headquartered.
A major highlight of the deal is that the three firms will jointly build a technology center that will focus primarily on new energy cars, smart and internet-connected cars as well as lightweight car bodies, and also share the results. The specific schedule and investment involved are yet to be disclosed.
With the automotive sector in the country witnessing sweeping changes, the cooperation would help Chinese carmakers to gain considerable scale and build better and more competitive car brands, said Changan in a statement.
Cui Dongshu, secretary-general of the China Passenger Car Association, said: "Cooperation in fundamental research and development would be beneficial, but whether the benefits can be transformed into improved market performance will also depend on their respective corporate strategies."
According to the deal, the three will work together in conventional fuel-powered cars as well, in terms of platforms and powertrains, production, procurement and logistics.
They will also explore car-sharing, smart cities and mobility services, and join hands to expand in overseas markets, with plans to expand cooperation in such areas as overseas production facilities, business partners and dealerships.
The deal comes at a time when China is planning to become a global automotive power within 10 years.
"We are not strong in innovation; we have not seen enough coordination; and we have little transformative, innovative technologies," said Minister of Industry and Information Technology Miao Wei when he unveiled China's car development plan in April.
"Chinese brands need to improve their core competitiveness as we have few internationally competitive companies. We should attach importance to the problems and actively solve them," he said.
John Zeng, managing director of LMC Automotive Shanghai, said moves like the three carmakers' cooperation may not generate desired results if they are not well-coordinated or well-managed.