Another FAW shakeup adjusts focus on new key brand goals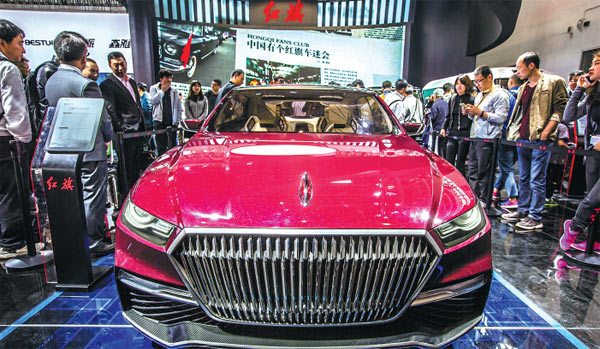 Hongqi's B-concept car in an auto show. Observers express that some businesses, especially Hongqi and Xiali, have been losing profits while under FAW with no sign of revival. [Photo provided to China Daily]
Automaker aims to be top Chinese vehicle brand with new visions and executive rearrangements
An executive reshuffle at State-owned FAW Group seems likely to strengthen supportive measures aimed at helping its Chinese brands achieve their ambitious 2025 targets.
Local media reported that the presidents of two FAW subsidiaries were moved to new roles within FAW Group.
Zhang Pijie, former president of FAW Volkswagen Automobile, was appointed director of procurement of FAW Group.
Hu Yong, former president of FAW Car, was appointed as director of strategic management of the group.
The high-profile actions were taken together with a series of other transfers involving more than 50 departments.
This follows Xu Liuping taking the helm as the group's chairman on Aug 2, announcing the group will concentrate its resources in supporting its Hongqi brand and products.
Sources familiar with the automaking group said all of the executives of the subsidiary business units were required to support the group's own Chinese brands. The adjustment was made in line with the group's portfolio targets, they said.
The group aims to forge Hongqi into the top high-end Chinese brand by sales volume, while the FAW brand goal is to be the top Chinese commercial vehicle brand by sales volume, according to the sources, who requested to remain anonymous.
The target for Besturn is to rank among the top five auto brands and among first-tier Chinese brands between 2020 and 2025. The joint ventures aim to be among the best companies in China, the sources said.
In the area of new energy and intelligent connected vehicles, the group is also aiming for leading positions among first-tier automakers in China.
Securities analysts said that they have been expecting FAW Group's listing on a Chinese stock exchange for years, but the group lacked clear direction.
After the group's flat management system was established, executives will combine efforts in their new positions to carry out Xu's strategic plans, according to sources close to the matter.
A Besturn division will be established directly under the control of the Group. Parallel with the Hongqi division in the group's organizational structure, the Besturn division will merge the FAW Xiali and FAW MC business units.
The sources said: "Some businesses, especially Hongqi and Xiali, have been losing money for years, and there were no signs of reversing the trend.
"Staff members across the entire group have been busy coping with the frequent executive reshuffles since 2015, the year the former chairman Xu Jianyi was sentenced."
Another source told the reporter that the group's earlier weakness and failures resulted from a lack of diligence in the top management team.
The source said that as soon as the executives begin to behave properly in their roles and take care of the Chinese brands, the group would develop positively.
"After all, FAW Group has renowned brand names, including Hongqi. They are widely recognized and accepted. The company could easily promote the right products with these brands to Chinese customers."