Gree denies rumors of seeking stake in automaker FAW Xiali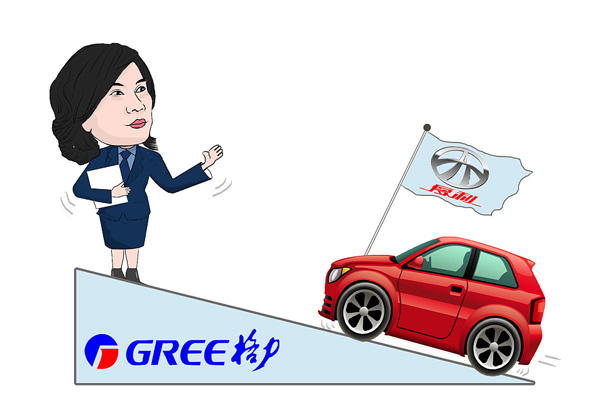 Gree Electric Appliances Inc shot down rumors of seeking a stake in Tianjin FAW Xiali Automobile Co Ltd late on Sep 18, 2017. [Photo/VCG]
China's leading appliances maker Gree Electric Appliances Inc shot down rumors of seeking a stake in Tianjin FAW Xiali Automobile Co Ltd late on Monday.
Gree and its executive management team have never negotiated or reached any consensus with FAW Xiali on taking a share and none of the company's staff members went to or are in FAW Xiali, the company said in its announcement.
Previously, the market was buzzing with the news that Gree Chairwoman Dong Mingzhu and her team showed up in FAW Xiali and engaged in final consultation of buying a stake.
Securities Daily said in its report on Monday morning that a FAW Xiali insider revealed on Friday that FAW Xiali will announce the latest development of the equity purchase issue soon and the company's second-largest shareholder Benefo Corp will exit.
After Gree has a stake in FAW Xiali, the automaker, a manufacturer of economy passenger cars controlled by China FAW Group, will transform into developing new energy vehicles and no longer produce traditional fuel vehicles, the insider told Securities Daily.
21st Century Business Herald also cited a FAW Xiali insider's words in its report, saying "the two sides' cooperation has been settled, FAW Xiali will make an announcement around Wednesday."
The market speculation can be traced back to Sep 8, when FAW Xiali announced suspension of its shares due to urgent issue.
The company said it received a notice from its controlling shareholder FAW Group, which said FAW Group was working on major issues related to the company.
"FAW Car Co Ltd, another holding subsidiary of FAW Group, was not involved in the suspension, which may imply FAW Group has been planning to sell its assets," an industry insider said on Monday, 21st Century Business Herald reported.
On Monday morning, the market speculation was deepened after Gree's shares were suspended, but then was dispelled by Gree's latest announcement.
A new speculation was made by 21st Century Business Herald that Dong Mingzhu may buy a stake in FAW Xiali as an individual.
The speculation has not been verified, but there was a similar precedent for Dong.
Last year, after Gree's plan to purchase new energy vehicles maker Yinlong Energy Co Ltd was vetoed by its shareholders, Dong invested as an individual in the company, putting 3 billion yuan ($432 million) in Yinlong with other four investors including Dalian Wanda Group.
Analysts said Dong might be interested in FAW Xiali because she wants to get a complete car production line and lay out the upstream and downstream of the industry to ensure the new energy vehicles project she invested landing successfully, 21st Century Business Herald reported.
However, FAW Xiali has been suffering expanding losses in the recent decade.
In the first half of this year, it made an operating income of 623 million yuan, down 37.9 percent from the same period last year. And it reported a loss of 671 million yuan in its operating profit and a loss of 686 million yuan in its net profit attributable to shareholders of listed companies.