Australian businesses confident about Chinese economy in next five years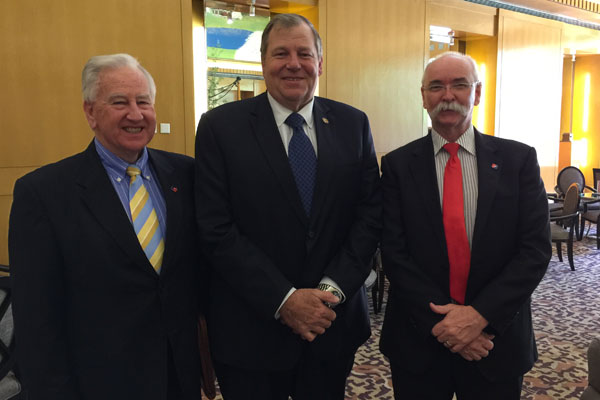 Bob Baldwin (center), advisor to Australia International Trade Association & Associates, poses for a photo with Ken Smith (left), president of Australia China Business Council Victoria, and Daryl Guppy, president of the Northern Territory chapter of the Australia China Business Council, in Beijing, Sept 18, 2017. [Photo/chinadaily.com.cn]
Under the great leadership of the Chinese government, Australian businesses are very confident about the Chinese economy in the next five years, Bob Baldwin, advisor to Australia International Trade Association & Associates, said in an exclusive interview with chinadaily.com.cn.
Baldwin, who is also former parliamentary secretary to the minister for industry of the Australia Federal Government, said the Chinese economy hasn't slowed down in terms of bilateral trade between China and Australia, especially in certain sectors, such as agriculture. The Chinese economy has been developed at a very healthy and stable pace in the past five years.
"The Chinese economy is still one of the greatest economies in the world and most of the countries in the world will be happy to have the growth rate that China has in its economy right now," Baldwin said.
International financial heavyweight the International Monetary Fund (IMF) recently upgraded their outlook for the Chinese economy and raised its estimate for China's 2017 growth to 6.7 percent, 0.1 percentage point higher than its last prediction.
This is in line with Baldwin's opinion, which can been interpreted as a show of confidence in China's economic growth.
One of the confidence boosters of the Chinese economy is what he read this week in the newspaper, that President Xi Jinping has directed great controls on intellectual property rights and prosecutions of those who breach intellectual property rights, Baldwin added.
"If you want to secure technologies from Australia, if you want to secure joint ventures and investments from Australia, people need to feel they have protection in their intellectual property rights," Baldwin said.
In Baldwin's opinion, China has shaken off the possibility of a hard landing, as the country has successful launched the Belt and Road Initiative and played an important role in the ninth BRICS Summit.
"The idea of a hard landing was really a story that was generated by many western commentators who failed to understand the structure of the Chinese economy and high level of domestic savings, so there was never a high probability of a hard landing economy in China," said Daryl Guppy, the president of the Northern Territory chapter of the Australia China Business Council.
Guppy believes the whole structure of the economy is very different, as the country can draw a large reserve of domestic savings, which means it may not be involved in international borrowing in the same way other countries are in Europe and in the United States.
"If we put the idea of a hard landing to one side and concentrate on the real issues of economic development and economic sustainability going forward, the Belt and Road Initiative is an important part of that. It will succeed because it doesn't rely on extensive borrowing from overseas," Guppy said.
China has already showed that their management after 2008 was some of the best management of economic development in the world, so there is no possibility for a hard landing for the Chinese economy, Guppy said.
Ken Smith, president of Australia China Business Council Victoria, highlighted the importance of the Belt and Road Initiative for both China and Australia.
Australia also wants to sell its products to Europe or other parts of the world along the Belt and Road through China, so the Belt and Road Initiative is not only important to China but also to Australia and the world as well, Smith said.
The Chinese market, with the increasing demand from the rising middle-class and strong consumption power, is very important to Australia and the world, and Australian businesses should have seized opportunities, especially after the Free Trade Agreement took effect two years ago, Baldwin said.
China and Australia have great cooperation potential in not only mineral and iron and ore industries, but also the tourism and education industries in the next five years, according to Baldwin.
Baldwin took the tourism industry as an example and pointed out that the collaboration between China's UnionPay International and Tourism Australia would ensure enjoyable and smoother experiences for Chinese tourists using the service in Australia, and stimulate Chinese visitors' spending in Australia.
As one of Australia's fastest-growing sources of tourists, China has been Australia's highest spending market for six consecutive years, said Australian Trade Minister Steve Ciobo in an interview with Xinhua News Agency.
The minister said about 1.2 million Chinese tourists visited Australia last year, and this is forecast to nearly double by 2020. These same Chinese tourists spent A$9.7 billion ($7.7 billion) in Australia in the year ending March 2017, Xinhua reported.
The anti-corruption campaign has demonstrated China's determination and capacity to push forward with reform and gives Australian businesses confidence that China can provide a stable, clean and healthy business environment for international investors, Guppy said.