Audi: A more connected and eco-friendly future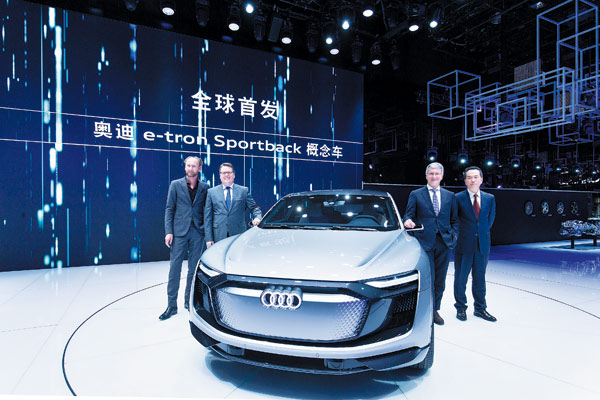 From left: Marc Lichte, head of design at Audi AG, Dietmar Voggenreiter, member of the board of management of Audi AG for sales and marketing, Rupert Stadler, chairman of the board of management of Audi AG, and Zhang Pijie, member of the board of directors and president of FAW-Volkswagen Automotive Co Ltd, take part in the 2017 Shanghai auto show.[Photo provided to China Daily]
By showcasing its strong lineup and dazzling booth design at the auto show, Audi highlights its commitment to driving toward the more intelligent, connected and eco-friendly future of cars.
The premium brand brought a magnificent lineup of more than 20 models to the 17th Shanghai International Automobile Industry Exhibition on Wednesday under the banner of "Creating Tomorrow, Today", including the New Audi A3 launched in China and the Audi e-tron Sportback concept.
"We are making changes with increased focus on the future, with new technologies, new design language and a new look. And we expect to gain popularity in China," said Rupert Stadler, chairman of the board of management of Audi AG.
As a leader in China's compact premium car market, the New Audi A3 has further accentuated Audi's progressive and sporty brand image. Another masterpiece of future mobility, the Audi e-tron Sportback concept can be described as a design study and technology demonstrator, underscoring Audi's understanding of electric architecture.
This car marks the beginning of a new era at Audi. It will be a battery-electric SUV, and the first electric car in the core lineup with everyday usability. With a range of more than 500 kilometers, it delivers a unique driving experience and exceptional design. In 2020, Audi will offer a third premium electric car in the compact segment. Starting in 2021, Audi will electrify one Audi model in each of its existing core series.
When it comes to the China market, new energy vehicles and related services will be a main focus in the future. Looking into the future, FAW-VW Audi will introduce six e-tron models over the next five years, including a purely electrified SUV that has a maximum range of more than 500 km when fully charged, as indicated in the 10-Year Business Plan, inked in January by Audi and FAW.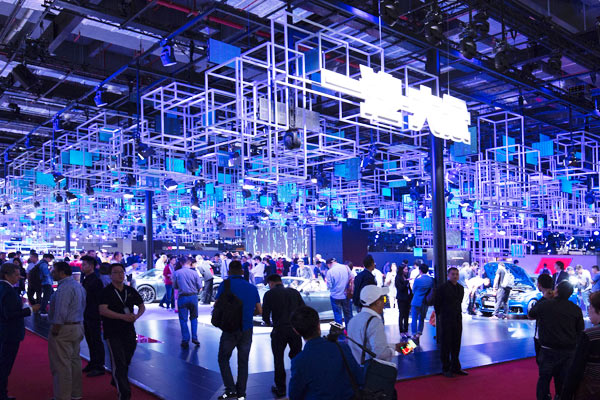 The Audi booth attracts visitors at the 2017 Shanghai auto show. [Photo provided to China Daily]
"The China market is an ideal fit for Audi's corporate strategy in three aspects. Thanks to its ever increasing digitization and urbanization, now 630 million people in China are online. Eight out of 10 use mobile access," said Stadler.
China's new energy passenger car market continued the surging trend in the first quarter. Industrial data showed a total of 51,691 electric cars, plug-in hybrids and fuel cell cars were sold in the first three months of 2017.
The first quarter sales figures represented a 22.9 percent jump year-on-year, after the market size reached an annual volume of 328,864 units in 2016. Moreover, the Chinese government still offers policies favorable to new energy vehicles, as demonstrated by the more than 1 million electric vehicles and plug-in hybrids.
All of them together paves the way for a connected car. In the next decade, Audi will turn electric mobility into a must-have.
Following 29 years of fruitful cooperation, Audi and its Chinese partner FAW Group have defined 21 key strategy fields with specific goals in a 10-Year Business Plan. Audi will significantly expand its model portfolio locally produced at FAW-VW and enter new segments, including electrified automobiles.
"This year is a year that we strive to focus on the customers, as the user groups are younger with preferences for individualization," said Zhang Pijie, member of the board of directors and president of FAW-Volkswagen Automotive Co Ltd.
Furthermore, Audi and FAW will intensify their collaboration in financial services to serve the rapidly growing demand from Audi customers. With this agenda for the future, Audi and FAW are laying the groundwork to continue their growth strategy in China.
"In the past 29 years, Audi and the FAW Group have written Chinese automotive history. Together, we have established the premium market in China and have continuously advanced its development," said Dietmar Voggenreiter, board member for sales and marketing at Audi AG, in regard to the signing of the 10-Year Business Plan in Changchun.
"Now, the partnership is starting the next phase of our shared growth path in China. More than ever, our partnership is focusing on profitable, sustainable growth," he continued.
Audi sees China as the leading market worldwide for electric mobility. With the e-tron initiative, the company wants to create a compelling offering of premium products and services locally.
The partnership between FAW and Audi is an excellent model of China's joint ventures in the automobile industry, and has made great contributions to development of the country's premium car market.
Audi and FAW-VW have set a historic milestone by enhancing bilateral partnerships with a strong roadmap for the coming decade. The establishment of the business plan is a strong sign of the reliable partnership between the two sides.
Contact the writers through haoyan@chinadaily.com.cn