Audi to launch clean-energy vehicles, expand production in China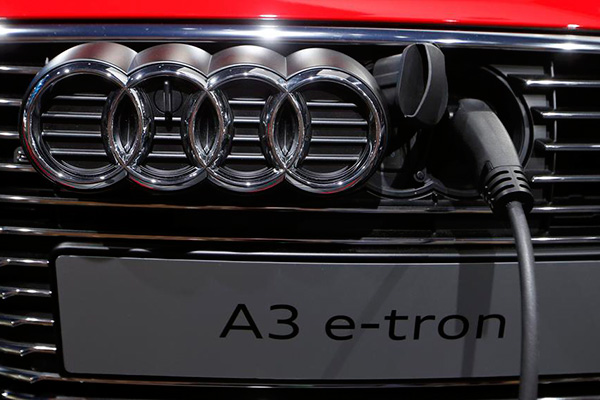 An Audi A3 e-tron is shown plugged in while on display at the North American International Auto Show in Detroit, January 12, 2016. [Photo/Agencies]
CHANGCHUN - Audi plans to launch five clean-energy vehicles and expand annual production in China to 1 million units in the coming five years, sources with the Sino-German auto joint venture FAW-Volkswagen Automotive said Friday.
Among the five clean-energy vehicles are the Audi A6L e-tron, Q7 e-tron and A3 Sportback e-tron and an all-electric SUV with a 500-km range.
Meanwhile, Audi is also planning to launch new vehicle types produced locally in China, including the Q2, to meet the diverse demands from consumers in different age groups.
The Q2, the smallest Audi SUV, will be mass produced at the FAW plant in Foshan, Guangdong.
By 2020, FAW Volkswagen's five production bases in China are expected to have an annual production capacity of 3 million units. Audi's annual production will by then have expanded to 1 million.
Last year, FAW sold 589,088 Audi vehicles, taking up nearly one-third of China's luxury car market.
But Audi sales in China had a rocky start this year, with 35,200 units sold in January, down 35.3 percent from the same period last year. January sales of its two competitors, Mercedes Benz and BMW, totaled 58,800 and 51,300 units, respectively.
Jing Qingchun, executive deputy head of FAW Volkswagen's Audi sales division, however, was optimistic that Audi would continue to take the lead in 2017.
"We will adjust our strategies in real time according to the market fluctuations," Jing said.