Dispute could serve killer blow to Audi's dominance in China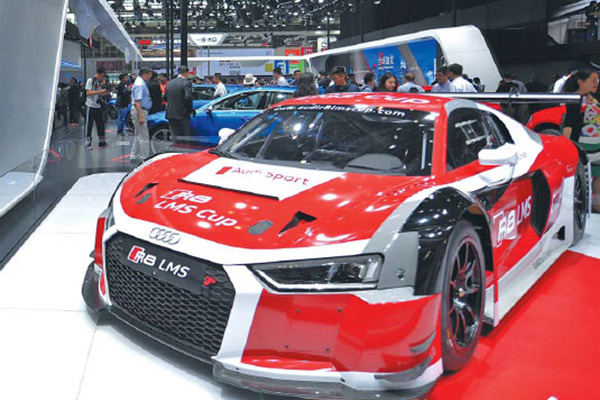 An Audi R8 LMS serves up an auto feast for enthusiasts at the Beijing auto show in 2016. [Photo/Xinhua]
Dozens of dealers refuse to take in new stock of imported models and more are likely to follow the boycott
Audi AG's dealers in China are refusing to accept deliveries of cars from the German premium carmaker in response to the company's recent criticism of them, in a move which analysts believe will further damage relations and impact on the marque's decades-long sales dominance in the country.
Dozens of Audi's 450 authorized dealers have already stopped taking delivery of imported cars and more will likely join the boycott, according to a market source familiar with the affair.
The move came after Audi's board member for sales and marketing Dietmar Voggenreiter said on March 15 that if dealers in China lose trust in Audi, the company will not be able to force them to cooperate.
Voggenreiter, former head of Audi China, made the remarks at the company's annual news conference in Germany when asked about Audi's attitude towards its existing dealers' opposition to its planned car production and sales venture with China's SAIC Motor.
Audi started producing cars in China with FAW Corp almost three decades ago.
Fearing that a new sales network would damage their interests, its existing dealers have made their displeasure clearer ever since Audi signed a memorandum with SAIC in November.
"We are shocked by Audi's response and we're determined to firmly defend our legitimate interests," said the dealer association in an open letter on March 20.
"Audi management didn't focus enough on either the changing premium market in China or the progress of its competitors in recent years," the dealer association added.
It was the second disapproving letter written by the association within a month.
In the first, released on February 16, the association demanded that Audi should realize its goal of selling 1 million cars in the country before agreeing to deal with a second partner.
Last year, Audi delivered 589,000 cars to China, its largest single market globally since 2010.
The association said in February that network expansion due to the unrealistic sales goal Audi set for 2020 made its members lose 28 billion yuan ($4.07 billion) from 2014 to 2016.
Analysts said the escalating rancor will impact both sides and could result in Audi losing the top spot in China for the first time in more than two decades.
As a result of its plunging sales, Audi has lost significant ground to its major competitors in China in the first two months of this year.
The company's sales in the country tumbled by 24 percent year-on-year to 67,336 units from January to February. Meanwhile, BMW sold 92,045 units, up 14.7 percent; and Mercedes-Benz's deliveries jumped by 40.3 percent to 95,076 units.
An industry insider who spoke on condition of anonymity told China Daily: "Audi will find it exceedingly difficult, if not impossible, to narrow its sales gap with the other two German brands, especially when there is no sign of a rapprochement with its dealers."
Audi said it is "learning" from its parent Volkswagen Group, which has tie-ups with both FAW and SAIC, and it is holding intensive talks with local partners to ensure the next stage of growth proceeds smoothly, including building the second joint venture with SAIC.
John Zheng, managing director of LMC Automotive Consulting Shanghai, said: "The ferocity of existing competition in the market means that building a separate network with a second partner could be counterproductive for Audi."
Audi's joint venture with FAW now has plants in Northeast China's Jilin province and the southern Guangdong province to manufacture the A6, A4, A3, Q5 and Q3. It also markets a slew of imported models in China, such as the A8, A5, A1, Q7 and TT.