Premium cars jump on the bandwagon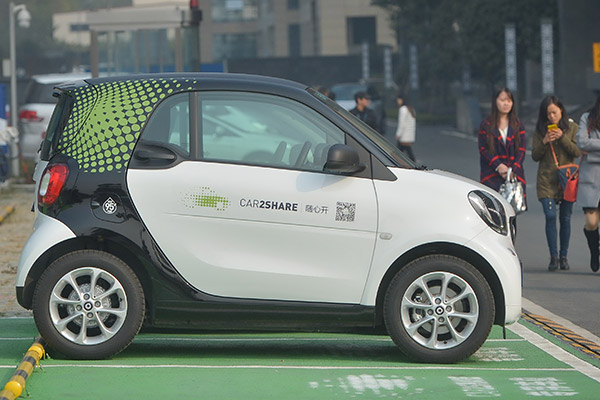 A Smart car of the Car2share fleet operated by Daimler AG in Chengdu, Sichuan province. [Photo/China Daily]
German premium carmakers such as Audi, BMW and Daimler have been conducting trials of time share services in China, hoping to get a head start in this segment, despite the business being nascent and far from profits.
The auto players' time share fleets comprising famous brands are seeking to offer seamless urban mobility in the world's largest auto market.
"The premium carmakers' time share service won't break even quickly as their charges are pretty low while the users are only a few," said Yale Zhang, managing director of Automotive Foresight (Shanghai) Co Ltd, a firm that offers consultancy services.
Daimler AG started "Car2share" projects in 2014, providing Smart For Two fleets to partner companies such as Beijing-headquartered Lenovo Group.
The company's Car2go unit launched its operations in Chongqing in April 2016, and attracted about 130,000 users by the end of last year.
A Car2go user pays a 99-yuan deposit as well as a fare determined by both time and distance. So, a typical drive will involve a fare of 1.19 yuan per kilometer and 0.59 yuan per minute. Parking fee, insurance and gasoline cost are included in the fare.
Zhang said: "A car rental company usually charges hundreds of yuan for daily use, and breaks even in two years on a common car. But timeshare users pay tens of yuan on half-hour basis or even shorter rides."
Carmakers said they are eyeing the emerging demand for transportation-sharing for new opportunities.
For instance, Audi, BMW and Daimler have announced ambitious plans to foray into premium mobility services in the next decade.
The pilot trial of "Audi at home" has been on at select luxury residences in Hong Kong since August 2016. Residents can book an Audi trip through an app and pay for the duration that they use the car. They can choose from the compact Audi A3 e-tron, the well-equipped Audi Q7 and the Audi TT Roadster.
BMW launched its Charge-Now service in China in 2015 as a first step toward launching its premium urban mobility service DriveNow in the country.
"The carmakers have been testing the water," said Zhang.
The companies are optimistic. At an event in Shanghai recently, Ian Robertson, a board member of BMW AG responsible for sales and marketing, said: "China is at the forefront of future trends and digitalization, as well as e-mobillity."
The German carmakers share a vision that cutting edge technologies like autonomous driving and cloud computing will power the car-sharing business in future, by facilitating analysis of user behavior and preferences for customized services.
Zhang said: "Given the uncertainty over the future of this segment, carmakers have to be in the game to avoid missing out on opportunities."
Japanese carmaker Toyota Motor and US auto major General Motors are also among those working on the time share business, but their services are outside of China.