Car-sharing market floundering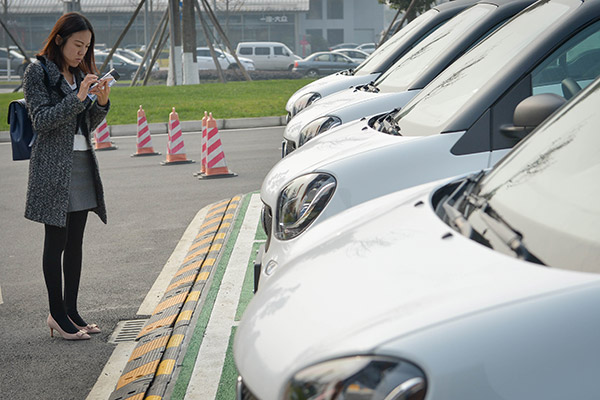 A citizen in Chengdu, Sichuan province, uses time-sharing cars via online apps. [Photo/China Daily]
High cost, low fees and a limited user base mean mobility startups are not currently seeing success
Chinese companies in the car time-sharing business are facing the risk of insufficient cash flow, as they are relying heavily on funding while burning bank notes for vehicles and car plates, industry insiders said.
Car time-sharing is also known as short-term car rental.
One of the players in the field is Uucars, recently ceased operation and announced that users will receive their returned deposit in about one week.
The operator, Beijing Youyou Lianchuang Information Technology, was unable to sustain the business because the investment deal agreed upon last year has not been received as expected, despite having raised $16 million.
Analysts view the boom in car time-sharing as a possibility for the future, but break even is not among the possibilities, not to mention turning a profit.
"The charges are pretty low while the users are few, with users paying tens of yuan on half-hour or even shorter rides," said Yale Zhang, managing director of Automotive Foresight (Shanghai), a company that offers consultancy services.
The business was largely inspired by the United States' car-sharing company, Zipcar, which issues cards to members to unlock vehicles for rent in neighborhoods, urban areas and airports.
However, Zipcar users are charged by the hour or day on top of monthly membership fees.
Uucars charged a fare determined by both time and distance, a typical drive costing 0.8 yuan ($0.1) per kilometer and 0.09 yuan per minute.
Insurance and gasoline are included in the fare, but users must pay a 1,000-yuan deposit in advance.
A local media report cited the co-founder of Uucars, Jiang Qing, as saying that the company almost broke even in each vehicle's operation, but the deficit arose after deducting the costs of personnel and housing rentals.
The company operated a fleet of more than 300 new energy vehicles during its peak, but the majority of them were rented from other traditional car rental companies.
Li Yu, another co-founder of Uucars, said: "The biggest cost incurred was in the mounted rental expense. There's no profit model yet."
Zhang said: "A traditional car rental company usually charges hundreds of yuan for daily use, for example 200 yuan for a volume compact car per day, and break even in two years on a common car.
"Besides, to sell the cars after several years of serving is another income source."
Strategy&, a subsidiary of PricewaterhouseCoopers, noted in a report that "almost all car ride providers' books remain in the red, with each car losing 50 to 120 yuan a day," in its recent research report.
The report predicted car-sharing services will see fast growth in China in the coming years, and the fleets of such service providers are expected to reach a collective 170,000 cars by 2020.
Bill Peng, a partner with Strategy&, said: "The segment, after rounds of mergers and acquisitions, will see three to four dominant companies," in an earlier interview with China Daily.
More than 350 companies are currently involved in the car sharing industry, including car manufacturers, rental companies and startups like Uucars, according to Yang Yang, CEO of New Harmony Commercial Factoring Co, a car sharing solutions provider.
Both of Uucars' co-founders agreed that the sector deserved attention from many stakeholders, including local governments, car manufacturers and charging facility operators, and that they saw advantages in those players backed by carmakers and State-owned enterprises.
Strategic investment
The car-sharing subsidiaries under premium auto makers and State-owned vehicle rental companies are at the forefront of the game in the world's largest car market that is set to lead future mobility trends.
State-owned Beijing Shouqi Group founded Gofun Chuxing in 2015 to provide car-sharing services, announced an expansion of its operations to 20 cities and with more than 15,000 cars nationwide by the end of 2017.
Gofun's ambitious target is 50 times larger than Uucar's, and Gofun's current 1,100-unit fleet in Beijing is already 4 times the size of the startup.
Chinese Lifan Motors has added 1,100 electric cars to its Chongqing based car-sharing service provider Pand Auto, increasing the fleet to 1,400 units.
Strategy&'s data showed 95 percent of the cars shared now are new energy vehicles, and 77 percent of them are operated by automaker-backed car ride providers.
It expects automakers to continue to expand such providers' fleets to boost sales of their own new energy cars.
Things are moving in that direction already. Audi, BMW and Daimler have announced ambitious plans to foray into premium mobility services in the next decade.
Daimler AG started "Car-2share" projects in 2014, providing Smart ForTwo fleets to partner companies such as the Beijing-headquartered Lenovo Group.
The company's Car2go unit launched its operations in Chongqing in April 2016, and had attracted 130,000 users as of the end of last year, according to the company.
BMW Group's premium urban mobility service Drive-Now is in its pilot run among its employees with BMW i3, after launching its Charge-Now service in China in 2015 as a first step toward launching nationwide. Pilot trials of "Audi at home" have been available at select luxury residences in Hong Kong since August 2016.
Residents can book an Audi trip through an app and pay for the duration of travel.
Zhang at Automotive Foresight said the carmakers have been testing the waters to avoid missing out on opportunities, despite the expense.
He said: "It's strategic deployment. The profitability is out of carmakers' consideration. Calculating the market price as 150,000 to 200,000 yuan for a Smart, and above 400,000 yuan for a BMW i3, the investment won't be a large number for them."
Li Fusheng contributed to this story.