New Audi e-tron Sportback concept debuts in Shanghai
The e-tron Sportback concept, a versatile new concept car from Audi, had its world premiere at the ongoing Shanghai Auto Show.
The four-door Gran Turismo Audi e-tron Sportback concept comes with a 320 kW electric drive. The formal idiom combines classic Audi elements with an array of trendsetting details through its electrifying architecture.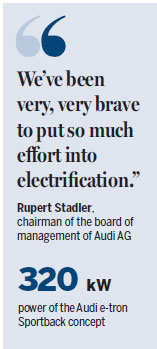 "We've been very, very brave to put so much effort into electrification," said Rupert Stadler, chairman of the board of management of Audi AG. "If we don't, the customers will forget us in the future.
"Future new energy vehicles are supposed to have an exterior that impresses the people, in addition to the interior, connectivity and autonomous driving."
In its light-colored interior, the Audi e-tron Sportback concept offers a blend of functional clarity and reductive controls as a formal principle.
Expansive touch screens below the central display, on the center console and in the door trims supply information and interact with onboard systems.
Horizontal surfaces on the dashboard and the seemingly floating center console convey a sense of openness for the occupants of the four individual seats.
The concept car's lighting technology is an innovation that is visible by both day and night.
Digitally-controlled Matrix LED units at the front and rear produce an excellent light yield. Miniscule Digital Matrix projectors make their mark on the road ahead, turning light into a versatile, dynamic channel of communication with its surroundings.
The brand with the four rings was the first in the world to adopt full LED headlights, and gave Matrix LED technology, laser lighting and OLED technology a significant push toward their breakthroughs. The technology study for Shanghai now premieres a whole host of complex functions that steer vision and interaction with surroundings in a new direction.
Stadler noted: "It's more about the future than the cost. In future battery electric vehicles, there won't be restrictions in the interior, but flexibility and reliability."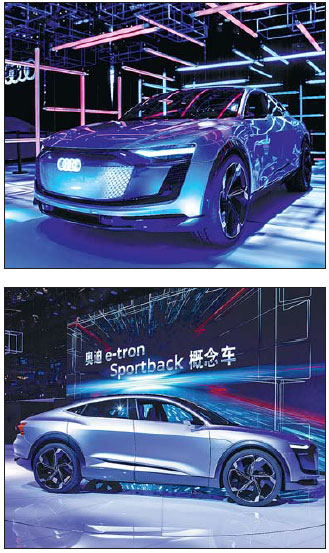 The Audi e-tron Sportback concept combines classic Audi elements and trendsetting details.
(China Daily 04/20/2017 page9)
Today's Top News
Editor's picks
Most Viewed