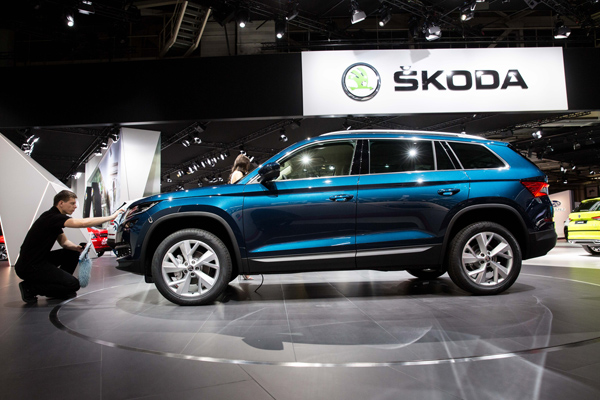 A worker cleans a Skoda Kodiaq during the press preview of the Paris auto show on Sept 30. [Photo/Getty Images]
Czech automaker Skoda Auto is starting an SUV offensive, with its seven-seat Kodiaq as the spearhead, to boost sales in China and other major markets.
The model will be localized at SAIC Volkswagen and hit the Chinese market as early as 2017, said Skoda CEO Bernhard Maier at the ongoing Paris auto show.
The joint venture, which has been producing Skoda cars since 2007, is planning to invest 2 billion euros ($2.2 billion) in five years to introduce more models from the brand.
Besides the Kodiaq, the planned cars include an upgraded version of the Yeti SUV already sold in China, as well as a crossover, said Maier.
SUVs are now the most popular cars in the country. Statistics from the China Passenger Car Association show that China sold 3.85 million SUVs in the first half of the year, surging 44 percent year-on-year.
Maier said Skoda is also expanding its sales network in the country, especially in smaller cities, but he did not offer a specific target.
Industry insiders believe the moves will improve Skoda's sales performance in China, which now is already the automaker's largest single market.
Maier said Skoda is expected to sell 300,000 units this year in China and has set a goal to double the figure by "no later than 2021".
Besides new gasoline models, Skoda is rolling out new energy vehicles to enrich its portfolio of models as part of a development plan called Strategy 2025.
The first plug-in hybrid will be available in China in 2018 and an electric SUV built on Volkswagen AG's platform MEB is expected to arrive in 2020, according to the automaker.
Skoda became part of the German auto giant in 1991 and has since benefited both financially and technologically.
One example is that Skoda cars are now produced at 14 manufacturing facilities globally, with five of them owned by Volkswagen AG.
A second part of Strategy 2025 is to reach more markets, said Maier.
Skoda cars are currently sold in 102 markets worldwide, but the new strategy aims to make the cars available in 120.
The strategy also includes offering new services like connectivity and smart mobility solutions.
"Compared with European customers, Chinese car owners on average are almost 20 years younger.
"Young people have higher expectations about digital services, that is why we are coming up with innovative solutions and making them available in the market," said Maier.