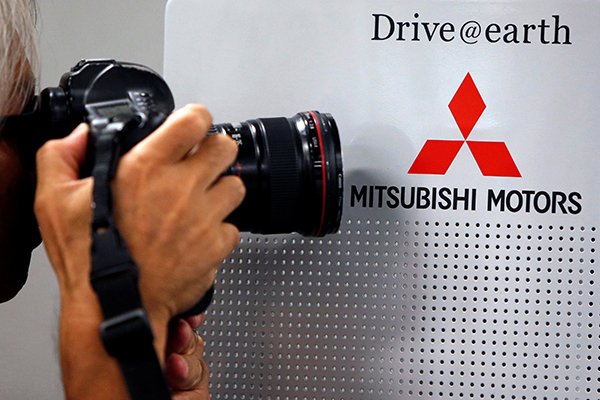 A photographer takes a picture of Mitsubishi Motors' logo during a news conference of its chairman and CEO Osamu Masuko at its headquarters in Tokyo, Japan, August 2, 2016. [Photo/Agencies]
Mitsubishi Motors Corp, which has been raided three times by Japan's transport ministry over its decades-long fuel economy scandal, could be searched again by the regulator, because a planned rescue by Nissan Motor Co has fallen behind schedule.
The ministry may raid Mitsubishi Motors' offices a fourth time if the evidence collected during its latest inspection does not fully detail the scope of Mitsubishi Motors' misdeeds, said Yuki Ebihara, an official within the regulator's recall division. Another search may also be warranted if the ministry's findings point to bigger problems, he said.
"You can't deny the company has a culture that's prone to malpractice," Ebihara said in a phone interview. "Compared with other makers, we have to take a closer look."
Yuki Murata, a Mitsubishi Motors spokesman, said the company regrets that its scandal has led to distrust and will cooperate with the ministry's investigation.
The possibility of another raid underscores how Mitsubishi Motors has struggled to move past a scandal that emerged four months ago, when it admitted to improperly measuring fuel economy and manipulating testing data. A mea culpa by Chairman Osamu Masuko, 67, led to the carmaker's planned rescue by Nissan. The latter has continued with the due diligence process, which it aimed to complete last month, on the purchase of a $2.2 billion stake.
Nissan expects to close its deal with Mitsubishi Motors before the end of the year and remains convinced of the merits of the transaction, Nick Maxfield, a spokesman for the Yokohama-based company, said by e-mail.
Japan's transport ministry is reviewing documents obtained on Sept 2 from Mitsubishi Motors' head office in Tokyo and its research-and-development center in Aichi Prefecture, Ebihara said. The regulator is also holding hearings with Mitsubishi Motors' executives, including Masuko, to get to the bottom of the company's wrongdoing.
Three days before its latest raid, the ministry said eight of the nine Mitsubishi Motors models it tested fell short of the company's advertised fuel economy figures. The regulator tested the models itself after Mitsubishi provided recalculated mileage figures to the ministry on May 18 that were still inaccurate.
Nissan Chief Executive Officer Carlos Ghosn stepped up with plans to buy a 34 percent controling stake in Mitsubishi Motors in May, after the scandal had led the company's shares to plunge more than 40 percent. Two minicars that Mitsubishi Motors produces for Nissan through a joint venture were among the models that initiated the company's woes in April.
Mitsubishi Motors named former Nissan executive Mitsuhiko Yamashita to revamp its research and development department, and to help prevent a recurrence of the misconduct from June 24. Ghosn also assigned Chief Competitive Officer Hiroto Saikawa to lead a team that is identifying ways the two companies could save costs and boost production efficiency.
Bloomberg