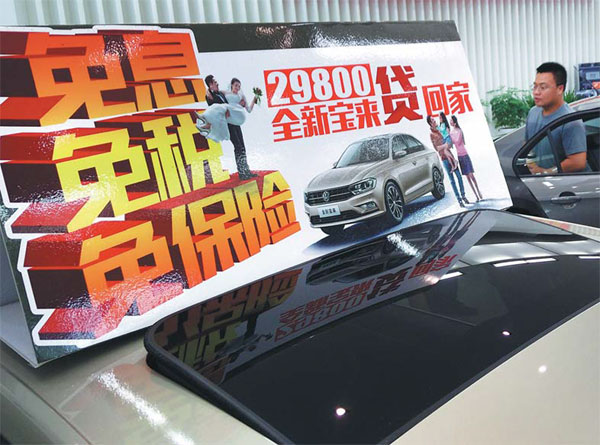 A car retailer in Nanjing, Jiangsu province, attracts buyers by offering zero-interest loans. [Photo/China Daily]
Chinese-branded automobiles take the lion's share of the auto market
The China Association of Automobile Manufacturers will lobby the government to extend the favorable policy on cars with engines no larger than 1.6 liters, said a senior executive with the organization.
"We think the policy has been playing a positive role in boosting car sales and stabilizing the market and we will propose to extend it in due time," Shi Jianhua, the CAAM deputy secretary-general, told China Daily.
The policy was introduced in late September 2015 to boost car consumption after car sales saw negative growth for three months in a row, from June to August, in the year. It halves purchase tax on cars with engines no larger than 1.6 liters, which in most cases, is 10 percent at a car's sticker price.
It has been proven effective, gradually fueling growth rates, but it is to expire at the end of the year.
The CAAM statistics show that in the first eight months of this year, 10.4 million such cars were sold, 19.4 percent growth year-on-year. Each month, they accounted for around 70 percent of total passenger car sales.
With their help, vehicle sales in August reached 2.07 million units, a 24.2 percent surge from the same month last year, and those sold in the first eight months totaled 16.75 million units, an 11.43 percent growth year-on-year.
Of them, passenger car sales hit 14.44 million units, up 12.83 percent from the same period last year.
"It is much better than what we have expected, but we now do not have plans to scale up our estimate," said Shi.
The association estimated the growth rate in 2016 to grow by 6 percent at the start of the year and revised in the end of the first half to 6.1 percent.
Chinese brands
Passenger vehicles from Chinese manufacturers took the lion's share in the market. It was followed by German, Japanese and US brands.
Chinese-brand cars in the eight months totaled 6.09 million, accounting for 42.2 percent of the total. The sales grew 16 percent year-on-year, faster than the overall car sales growth rate of 12.83 percent.
In August, 730,000 cars manufactured by Chinese brands were sold, an increase of 30 percent on the same period last year, mainly driven by the SUVs, whose sales surged 57.5 percent.
Sales of sedans grew 13 percent, while sales of MPVs surged 36 percent.
From January to August, 2.85 million Chinese SUVs were sold, accounting for 46 percent of all Chinese-branded passenger vehicles.
New energy vehicles are maintaining their momentum. In August, 38,000 units were sold, the same as in July, a 92 percent surge year-on-year, with purely electric passenger vehicles accounting for 73 percent of that total.
Through the first eight months of this year, 245,000 new energy vehicles were sold, up 115.6 percent year-on-year. The CAAM expects total sales of such vehicles to reach 700,000 units this year, more than double the figure in 2015.