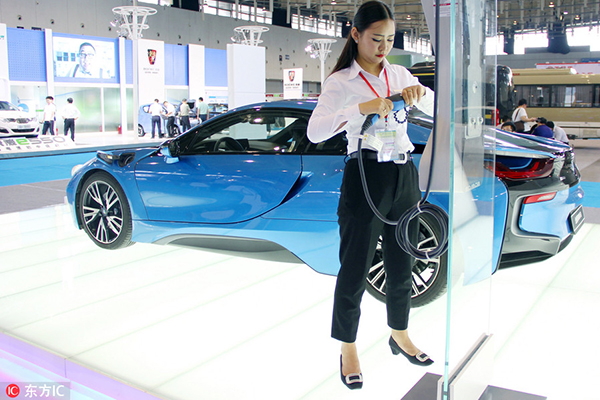 A worker at a new energy vehicle exhibition in Nanjing, Jiangsu province, shows how to charge an electric car. [Photo/China Daily]
Finance ministry clamps down on new-energy vehicle production amid swindlers' scandal
China is to start a new, intensified phase of developing the new energy vehicle sector after the government exposed and punished dishonest subsidized manufacturers in a bid to clean up the chaotic sector.
The Ministry of Finance on Thursday made public five swindlers who illegally obtained 1.01 billion yuan ($151.25 million) in subsidies in 2015 from the central government after an investigation of 90 such manufacturers started in early 2016.
The five-Suzhou Gemsea, Higer Bus, Wuzhoulong Motors, Chery Wanda Bus and Shaolin Bus-cheated the subsidies by claiming they sold 3,547 vehicles which were later found to be either unfinished or unsold, said the ministry on its website.
It described the five businesses as typical examples of subsidy cheaters, hinting that more might have been caught in the investigation, although no others were mentioned in the ministry's release.
The ministry said the five companies shall return the illegally obtained subsidies, be fined and be disqualified for subsidies in 2016. Gemsea, which had the most severe violations, will be stripped of its qualifications as an automaker.
Vice-Premier Ma Kai said at a meeting on July 6 that the central government will severely punish automakers who illegally claim subsidies, according to Caixin magazine.
The central government started offering subsidies to stimulate the production of new energy vehicles in 2009 and 33.4 billion yuan had been earmarked by the end of 2015, said the ministry.
Late last month, Song Qiuling, a finance ministry official, said at a forum on new energy vehicles that it is considering raising the threshold at which carmakers qualify to receive subsidies from the central government.
"The 'one-size-fits-all' subsidy scheme was effective in the early stages, but it may result in carmakers being over-reliant on financial stimuli and make them reluctant to do research and development, which would lead to poorer-quality products," said Song.
A report from the National Development and Reform Commission, the top economic planner, shows that China is home to more than 200 manufacturers of new energy passenger vehicles, buses and special-use vehicles, but they lag behind global leaders in terms of quality, reliability and technology.
Zhang Zhiyong, an independent auto analyst in Beijing, said some manufacturers had identified subsidies as a source of fast money from the very start and had no intention of producing competitive cars.
In fact, China has started cutting subsidies to the new-energy auto sector, and will cease all subsidies at the end of 2020.
Zhang believes subsidies might have done more harm than good.
"Cutting the subsidies will help to clean the sector. Those who have been focusing on money will go away, and those who stay are probably those who are really dedicated to the sector."
The authorities are also planning to curb the swarm of companies planning to make forays into the sector.
In early August, the Ministry of Industry and Information Technology released more stringent regulations for qualifications of new energy vehicle manufacturers for public opinion.
Among others, it proposes that carmakers will not be allowed to apply for a license unless they are capable of developing a control system and coordinating power and drive systems.
According to current regulations, knowledge of one of the three systems is sufficient, and both carmakers and car modifiers are allowed to apply for a license.
Dong Yang, executive vice-president of the China Association of Automobile Manufacturers, said the government wants to limit the number of carmakers dedicated to new energy vehicles to 10.
Yale Zhang, managing director of consulting firm Automotive Foresight, said the move might result in a small elite of companies at the expense of entrepreneurial startups.
He suggests easy access but strict supervision.
"The door should be wide open to all those who want to come but only those who can pass strict examinations can sell their products to the market," he said.
Chen Qingtai, director of China EV 100, a non-profit organization dedicated to new energy vehicles, said that Chinese carmakers must address the critical question of how the industry stays competitive as international rivals are introducing a growing number of products into the market.
"A key to meet the challenge (facing the domestic industry) is to make further breakthroughs in core technologies and substantially improve our competitive edge," said Chen.
Yale Zhang's solution is that the government should not set a sales goal and let the market have its say.
The goal of putting 5 million new energy cars on the road by 2020 would make sales, instead of technology, the top priority for Chinese automakers, said Zhang, adding that merely 20 percent of new energy vehicle buyers in China were individuals.
In 2014, China sold 75,000 new energy vehicles. Last year, the figure was 330,000 units. Throughout the first seven months of this year, 207,000 new energy vehicles were sold, more than double the number of the same period last year.