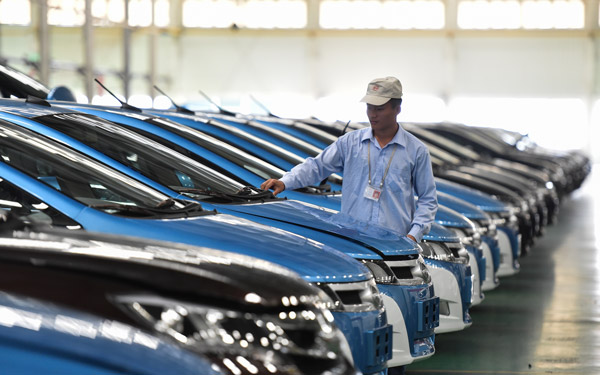 A worker checks electric vehicles made by BYD Co Ltd at the company's headquarters in Shenzhen, Guangdong province. [Photo/Xinhua]
Samsung Electronics Co Ltd said on Friday it is in talks to buy a stake in Chinese electric-vehicle manufacturer BYD Co Ltd, but has not finalized how much it would spend.
The South Korean giant said the investment aimed at strengthening cooperation between the two companies on electric-vehicle components and smartphone components.
It said details about the size of the investment will be disclosed when they are confirmed.
Samsung said it will not participate in BYD's existing operations, but the two sides plan to discuss cooperation in businesses going forward.
The Korea Economic Daily reported on Friday that Samsung had agreed to buy a 4 percent stake for 3 billion yuan ($449 million) in BYD.
BYD issued a statement on Friday, confirming Samsung had participated in a nonpublic share issuance, without disclosing the amount of the investment because the offering was still in progress.
However, it denied the report that Samsung will buy a 4 percent stake. It said the two companies will promote automotive-related businesses in the future.
BYD's stock rose 5.2 percent to close at HK$51.25 ($6.61) on the Hong Kong Stock Exchange on Friday.
In December, Samsung, the international smartphone and memory chipmaker, established a new team to develop self-driving technologies and automotive-related businesses, seeking a new growth point as the global smartphone industry was slowing down.
In August 2014, the group invested $600 million in a car battery project in Xi'an, the capital of Shaanxi province, to provide lithium batteries and tap into the electric-vehicle market in China. That facility began production in September.
Other technology companies have stepped up their outlays in electric, self-driving and internet-connected vehicles. Apple Inc, Samsung's biggest rival, has invested heavily in recent years in the developing automotive industry.
According to a report by Morgan Stanley, Apple's accumulated investments on automobile research and development between 2013 and 2015 reached $5 billion.
Industry experts said the cooperation between Samsung and BYD would help Samsung to expand its business in China.
Roger Sheng, research director at consultancy Gartner Inc, said the technical threshold to enter the electric-vehicle sector was relatively low for groups like Samsung, which has expertise in electronic components manufacturing as well as internet-connected technologies.
Chai Hua contributed to this story.