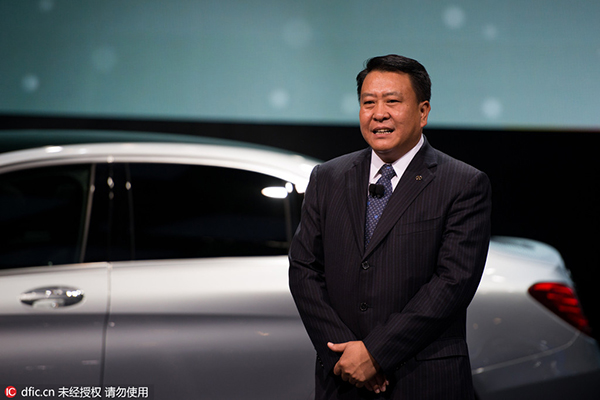 Xu Heyi, chairman of Beijing Automotive Industry Holding Co. [Photo/IC]
At $773 million, it will be the single-largest Chinese investment in the whole of Africa
Beijing Automotive Industry Holding Co, one of China's largest automakers in terms of sales, plans to produce up to 100,000 vehicles at its new manufacturing base in South Africa in 2018, the company's chairman said on Tuesday.
Scheduled to break ground next month and begin production in November 2017, the Port Elizabeth plant will be the single-largest Chinese investment in all of Africa.
With a 5-billion-yuan ($773 million) investment from BAIC, the plant will be operated as a joint venture with Industrial Development Corp, a South African financial company providing capital for various projects.
Xu Heyi, the group's chairman, said continued investment in infrastructure development will be key for the company's sustained growth in Africa over the next decade as consumers there are keen to buy easily serviceable and inexpensive vehicles.
Buoyed by the surging demand for new vehicles in Africa, BAIC established a minibus assembly plant that employs more than 500 people in Springs, also in South Africa, in 2013.
"We will continue to invest in our South African factories and an assembly plant in Nairobi, Kenya, to make pickups and light trucks," said Xu.
"Having factories in Africa will help the company move closer to the market and avoid it paying duties of up to 25 percent."
BAIC's new manufacturing base will produce passenger vehicles, sport utility vehicles, minivans and vans. It will create 2,500 jobs directly, and more than 10,500 jobs indirectly. At its full capacity, the plant will generate an industrial added value of 12.4 billion yuan for vehicles and 6.2 billion yuan for parts.
"More than 50 percent of the plant's products will be exported to contribute a trade volume of about 6.2 billion yuan to South Africa," said Xu.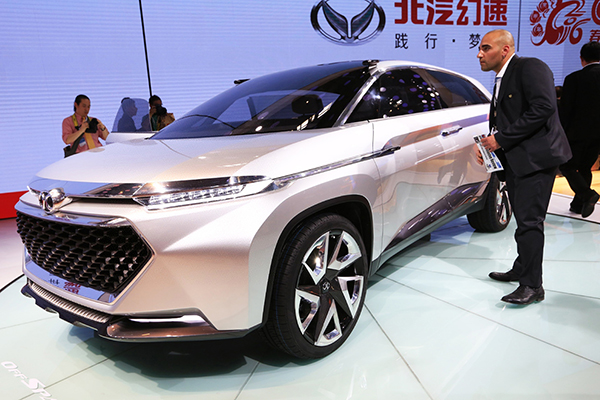 A visitor to the 2016 Beijing International Auto Expo, which was held last month, examines a new-energy vehicle made by Beijing Automotive Industry Holding Co. [Photo/Xinhua]
Zhao Ying, a researcher at the Institute of Industrial Economics of the Chinese Academy of Social Sciences in Beijing, said in most African countries, where new vehicles are beyond the reach of most people, secondhand vehicles command a large share of the market. The proportion is about 70 percent in most Sub-Saharan countries such as South Africa, Ghana, Ethiopia, Angola and Kenya, Zhao said.
"The disadvantage of such a big secondhand market is that the brand life of some cars can be as long as 20 years, and anyone with one of the old models can face problems in obtaining spare parts."
For instance, Japanese carmakers including Toyota Motor Corp and Nissan Motor Co, the main source for secondhand vehicles in Africa, have stopped producing spare parts for some models from the 1990s.
BAIC managed to sell 40,000 vehicles in global markets through its 24 overseas plants and 124 sales branches in 37 countries by the end of 2015.
As China and other partners are accelerating the pace of the ongoing negotiations to upgrade the China-ASEAN Free Trade Agreement, Xu from BAIC said the company will add more products in its manufacturing base in Ruili of Yunnan province by the end of 2017 to compete with other established global rivals in the markets of Southeast Asia.