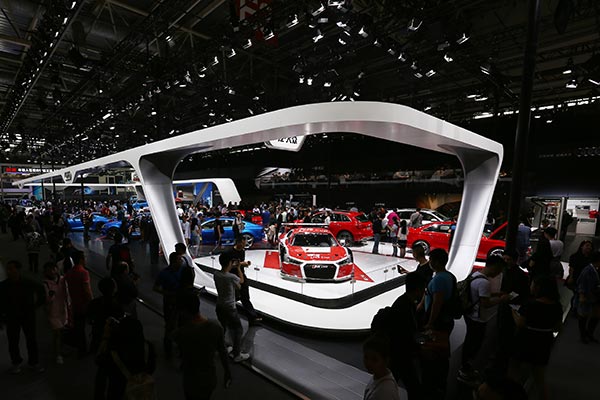 The exhibit booth for Audi attracts a large crowd of visitors at the Beijing auto show on Monday. Photos Provided to China Daily

Zero-emissions cars, plug-in hybrids top carmaker's priorities
German premium carmaker Audi AG has vowed to bring more new products and forward-looking technologies to meet China's evolving demands and maintain its three-decade leadership in the country's luxury car market.
Speaking at the Beijing auto show on Monday, Rupert Stadler, the company's chairman, said major individual mobility issues are "highly relevant" for China.
Stadler explained that the most important issues are "shaping mobility in the cities of tomorrow with urban solutions, contributing to a better environment with zero-emissions cars, giving our fans the precious gift of extra time with piloted driving, and creating a digital customer journey, in the car and beyond".
"Market slowdown really has no impact on us in terms of investment in China," he said. "We will have more investment and extend our product portfolio in China."
He said Audi will provide the A6L e-tron plug-in hybrid sedan exclusively for China by the end of this year.
The A6L e-tron, co-developed by Audi and FAW Volkswagen, will be manufactured at the Sino-German joint venture's plant in Changchun, Jilin province. It is the latest demonstration of Audi's strong cooperation with partners in China. The A6L e-tron features a 2.0-liter TFSI petrol engine and an electric motor. It consumes only 2.2 liters of gasoline per 100 km and accelerates from zero to 100 km/h in 8.4 seconds.
Stadler said Audi will also roll out the Q7 e-tron plug-in hybrid SUV in China in 2017.
"By 2018, our new all-electric SUV will be ready for production," he added.
Audi and FAW Volkswagen are displaying more than 20 new models during the Beijing motor show with three - the new A4L, TT RS Coupe and Q3 Connected Mobility Concept - making their global premieres.
Audi is the first foreign premium carmaker with nearly three decades of vehicle production experience in China. FAW Volkswagen produces the Audi A6L, A4L and A3 cars as well as the Q5 and Q3 SUVs.
"We are leading the Chinese market in volume, the number of localized cars and of course technology," Stadler said.
Audi's sales in China grew by 4.9 percent year-on-year to 138,940 units through the first quarter of this year, almost one-third of its global deliveries.
In March, the company sold 50,986 cars in China, up 5.4 percent from the same month a year ago.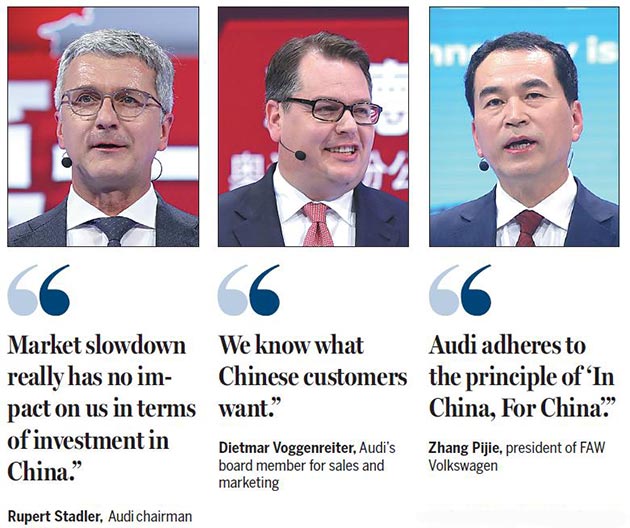 In China, the world's top vehicle market since 2009, electric and digitalized cars are expected to be more popular with a customer base that is younger than previous decades and has a growing awareness across the nation of air pollution.
Audi also attaches great importance to customer satisfaction with its products and services in China.
Dietmar Voggenreiter, Audi's board member for sales and marketing, said on Monday that it is "extremely important" for the company that Chinese customers are happy with its products and services.
"Only with high customer satisfaction can we achieve a strong position in China. ... We will continue our sustainable growth," Voggenreiter said.
Audi ranked first in both customer satisfaction indices in both sales and after-sales services last year in China, according to J.D. Power.
Voggenreiter had been president of Audi China for nine years before he was named a company board member last year.
"We know what Chinese customers want," he said, taking the new A4L with a longer wheelbase as an example.
The new A4L, produced at FAW Volkswagen, offers more space than ever before, with an additional 88 mm in its wheelbase. It will hit the market during the second half of this year.
"It will strengthen our business in China and make many more Audi fans," he said.
The first-generation extended A4L was well-received by Chinese customers. Since 2009, accumulated sales of the model have reached 700,000 units.
Audi was the first premium carmaker to provide long-wheelbase cars when it introduced the A6L in China in 2000. Its main competitors BMW and Mercedes-Benz have followed suit.
A locally made Audi Q3 compact SUV was also launched on Monday.
Zhang Pijie, president of FAW Volkswagen, said new models will further strengthen Audi's product offering in China this year and help maintain its market leadership.
"Besides market leadership, Audi adheres to the principle of'In China, For China' and maintains a strong commitment to corporate social responsibility," Zhang said.