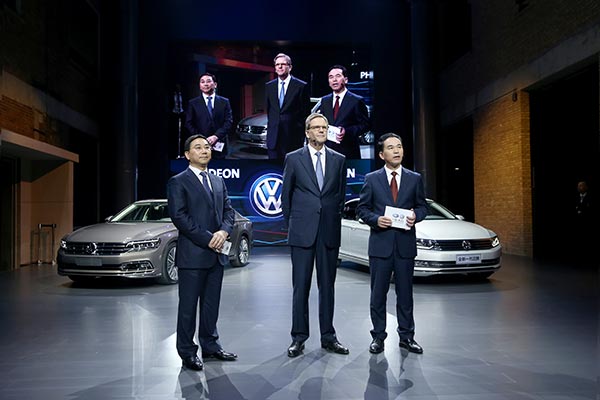 Jochem Heizmann (center), member of the board of management of Volkswagen Aktiengesellschaft as well as president and CEO of Volkswagen Group China; Chen Xianzhang (left), member of the board of directors and president of SAIC VOLKSWAGEN AUTOMOTIVE CO LTD; and Zhang Pijie, member of the board of directors and president of FAW-Volkswagen Automotive Co Ltd, present the automaker's strategies on the eve of the Beijing auto show.[Provided to China Daily]
German car giant Volkswagen, in its belief that China will play a key role in the digital transformation of the automotive industry, announced that one of its three centers for innovation will be located in Beijing.
Digitalization and e-mobility are the big themes for the future and will "radically alter our business", said Jochem Heizmann, member of the board of management of Volkswagen Aktiengesellschaft as well as president and CEO of Volkswagen Group China, on the eve of the Beijing auto show.
"We are firmly connected and committed to China and see the country as an incubator for innovation and new technologies, as well as a source of solutions that can be transferred to the world. In China, the future is now."
Heizmann said Volkswagen Group, together with its two joint venture companies, will invest over 4 billion euros ($4.5 billion) in its Chinese operations this year, with most to be spent on developing highly efficient, environmentally friendly products and advanced production processes.
With new-energy vehicles gaining momentum and the highest volume of new-energy vehicle sales coming from China, it is essential for the car group to get a better understanding of the specific demands from Chinese customers, he said.
Fifteen new locally produced new-energy vehicles will be rolled out by 2020, with the first being the plugin hybrid version of the Audi A6, which will hit the market this year.
The automaker said a platform dedicated to pure electric cars called MEB will enter the Chinese market in 2020. He added that cars are not merely tools for transport but integrated mobility devices, adding that it is enhancing its digital competence and fostering a new mindset.
In China, Heizmann said Volkswagen is partnering with Baidu and Tencent to offer what customers want in the digital era.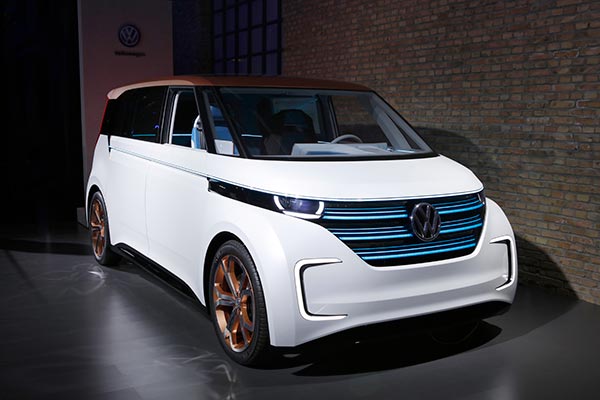 Volkswagen displays a series of new-energy vehicles on Sunday evening in Beijing, including the BUDD-e.[Provided to China Daily]
New innovation centers
Volkswagen AG is planning to establish three so-called future centers, one of which will be located in Beijing, to facilitate its transformation from a pure car manufacturer to a mobility group.
Beijing's new facility, with another two in Germany and the US, will be innovation hubs for designers and experts to work together on mobility applications.
Volkswagen will be progressing toward its goal of being the leading mobility provider, advancing its suite of software and services as the company rapidly grows its digital and connectivity solutions.
The goal of the center in Beijing will be to make the Volkswagen Group's vehicles the best in terms of customer services, interface designs, automotive interior concepts and infotainment and entertainment systems.
"Today, we are sending a clear message about the future of mobility. To lead these electrifying and digital transformations, we have to empower our brands and our regions," said Heizmann.
Volkswagen Group Chief Digitalization Oficer Johann Jungwirth said the Future Center Asia in Beijing "will be actively creating products and services for the era of digitalized and automated mobility".
"Having exterior designers, interior designers as well as user experience designers and engineers working together that closely side-by-side to create the best solutions is unique in the automotive industry."
To highlight how digital innovation and disruptive thinking are already increasingly embedded in the group's R&D structure, Volkswagen Group China's Team[X] presented their vision for the future on April 24.
"This team of creative and motivated people from 10 different fields within the company's Chinese operations will work on defining a new perspective of future mobility," said head of the team Simon Loasby, who is also Volkswagen Group China's director of design.
"These young people, most of them Chinese, form a creative think tank within the company. They develop our vision to use key future technologies to create the mobility experience of tomorrow."
New models
Volkswagen AG will launch many important models in the Chinese market this year, including the Phideon and the next generation Magotan, the Audi A4L and Q3.
The group will also be pushing forward with its SUV strategy, with 10 new locally produced SUVs to be launched in the next three to four years, said Heizmann.
The new cars will be backed by the group's network of around 3,000 dealers, said the company.
It said the network of dealers and customer service agents are available around the clock to provide immediate response to its 25 million drivers and the group is leveraging its following of 10 million to stay in direct contact with the people it serves.
The Volkswagen Group China, along with its two joint ventures, sold 955,500 cars in the first quarter on the Chinese mainland and in Hong Kong, up 6.4 percent year-on-year, higher than the industry's average growth rate of 6 percent.