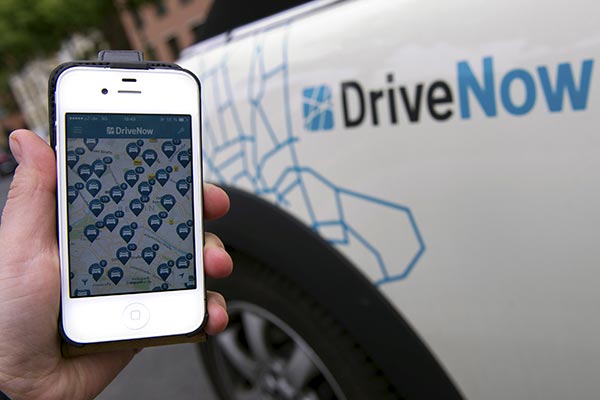 A smartphone displaying the DriveNow app with cars available in Berlin's city center.[Photo/Agencies]

Ownership of vehicles loses attraction for customers
Motoring experts expect emerging transportation-sharing services to create new opportunities and foresee great leaps in the near future, while Chinese customers' preference for short trips is car-hailing services with a private driver.
The Boston Consulting Group predicted that about 600,000 vehicles would generate 80 billion yuan ($12.34 billion) in added value in China by 2021, through new mobility services including long- and short-term rentals, and short trips with private drivers.
BCG said the appeal of private car ownership is weakening among the young in large Chinese cities, and customers will find various ways, including car-sharing services, to meet their mobility demands.
Long- or short-term car rentals enable customers to use vehicle they do not own. The users bypass the upfront costs of a car, and the greater costs that come with ownership, especially plate costs.
Marco Gerrits, a BCG partner, said: "The bulk of revenues … will come from light users who need a car only for occasional trips."
The Nielson Company Greater China found that ride-sharing through car hailing services reduces fares for passengers, lowers the frequency of driving private cars and weakens the users' desire to own private cars.
The research report published in February showed that 19 percent of the 4,000 car-hailing service users surveyed utilize ride-sharing services.
Experts who took part in the survey said "ride-sharing eases traffic congestion, helps save fuel use and reduces exhaust emissions."
Founder and CEO of Yidao Inc, Zhou Hang, expects private transportation, which accounts for 30 percent of Chinese traffic, to be shared among users of emerging mobility service users.
He said: "A car is in use for only 5 percent of its life. During 80 percent of that in-use period, the car carries only one driver. …Commercial platforms and operations make car sharing possible."
About 70 percent of the mid-size cars in Germany run a distance of fewer than 16,500 kilometers a year, indicating that ownership costs surpass the expense of car rental or car-sharing services, according to BCG's calculations.
Short-term car rentals are also known as timesharing. The customers drive the vehicles themselves and drop them off at scattered spots rather than rental outlets. The cars could be driven away by the next customers. The users and operators do not need to meet each other in person.
The United States car-sharing company Zipcar Inc gives a card to a member to unlock vehicles for rent around neighborhoods, in urban areas and airports. The users are charged a monthly membership, and also by hours or days for using the vehicles.
"Car sharing in China is so underdeveloped that its 0.4 percent market penetration is far behind Southeast Asian countries, not to say developed countries," said Yang Yang, CEO of New Harmony Commercial Factoring Co, a leading car-sharing solution provider in terms of vehicles operated.
He said: "The country had about only 550,000 vehicles in the sharing pool last year, and 80 percent of them were for long-term rental rather than timeshare. Now some car rental companies are transforming from long-term leasing to car hailing and timesharing."
Chinese car rental company Car Inc operates the largest fleet in the country with 83,168 vehicles at the end of 2015, compared with 58,773 vehicles in 2014. However, all of the company's fleet is not available for timesharing, and the shortest billing cycle is on a daily basis, and customers must visit a station to pick up and drop off cars.
Auto sharing business
There are car manufacturers tapping the timeshare business in China, including BMW AG, Daimler AG and Toyota Motor, all of which have been running car-sharing projects worldwide including on the Chinese mainland, with individual fleets of several hundreds of vehicles.
BMW launched its innovative ChargeNow service in China last year as the first step to extend BMW Group's Mobility Service in China. Daimler started car2share projects from 2014 providing Smart Fortwo fleets to partner companies.
New-energy carmaker BYD Motors announced in March it is starting a new-energy car timeshare rental business through a joint venture with Didi, a car-hailing platform.
Domestic carmaker Chery Automobile Co has been working with Internet car service platform Yongche Inc and telematics company Pateo Corp on joint venture Yiqitaixing from February 2014. They are building fully electric smart cars for a sharing service, and set to release the model this year.
Yang predicted: "The carmakers receive feedback from the big data collected by the car-sharing platform to produce vehicles tailored for sharing purpose from scratch.
"Take the CD player as an example. We have already found there's almost no customer use of CD players. Without it, a carmaker may save thousands of yuan in manufacturing costs, and lower the final price."
BCG's research found the majority of Chinese consumers will not forgo car ownership despite using more and more car services, especially in second-tier cities and smaller townships and counties. The residents there still treat private vehicles as a symbol of social status, and the company predicted little influence on new car sales with a 1 percent deduction in sales growth in 2021.
Nielson summarized that 67.8 percent of respondents who do not own cars "feel there's no need for a private car."
Moreover, 32.4 percent of private cars owners surveyed said they wouldn't buy another car and 9.7 percent were considering selling their cars, according to Nielson.