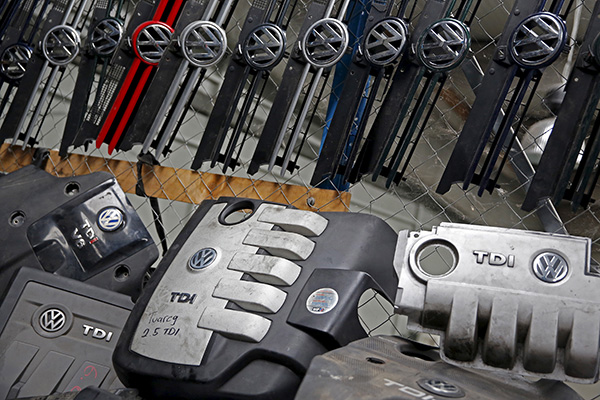 Volkswagen hood masks and covers for its diesel TDI engines are seen among secondhand car parts. [Photo/Agencies]
Winfried Vahland, the newly appointed head of Volkswagen AG North America, quit unexpectedly on Wednesday, less than three weeks after he was appointed to the post amid the diesel-emissions scandal.
On Oct 12, the General Administration of Quality Supervision, Inspection and Quarantine required Volkswagen China to recall its vehicles to fix the software problem.
Volkswagen China said earlier that the engine-control module software could cause a difference between lab-based and road-based detection statistics of tail gas in 1,950 of its imported diesel engine equipped vehicles.
Last month, Volkswagen was caught up in a diesel-emissions scandal in the United States after using sophisticated software in its diesel cars to evade emissions requirements for dangerous pollutants.
The scandal is a hot topic not only in the US, but in China as well. Many people were shocked by the news as German-made products are generally considered to be high quality, and German companies considered honest.
"The scandal is a big warning for the auto industry across the world," said Dong Yang, general secretary of the China Association of Automobile Manufacturers, at the end of last month in a statement titled "Warning of Volkswagen emissions fraud".
Everybody in the auto industry should be alert, Dong said, "We are a pillar industry. The products we make are closely involved with the interests of the State and the people, and therefore we must be responsible."
Apart from being shocked at the company's behavior, people are also wondering if similar cheats exist on other Volkswagen models, or vehicles from other international and domestic automakers. "I think they exist," Dong said.
He said he believes that similar cheating behaviors also exist among Chinese automakers, as the foundation of automobile technology is relatively weak in the country.
There is also poor supervision in the auto market, immature consumers and a tolerance of fraudulent products.
He did not think Volkswagen would be brought down by the scandal, but said it could take the company 10 years to recover from the impact.
For Chinese automakers, which are not as strong as international marques like Volkswagen, Dong said, "they will be beyond redemption if they make the same mistake".
Vehicles have a huge influence on people's daily lives, and the auto industry is an industry that influences every country's economy to a large extent, Dong said, so it is closely watched by both the government and the public, so should never cheat.