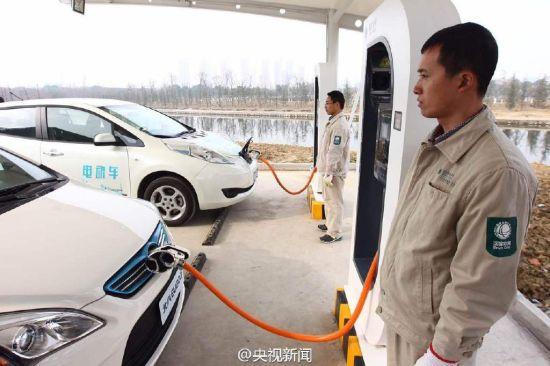 A charging station for electric vehicles along the Beijing-Shanghai Highway. [Photo/Official Weibo account for CCTV News]
NANJING - China will build a network of 12,000 charging stations to meet the power demands of 5 million electric vehicles by 2020, a National Energy Administration official said Monday.
In addition to the 12,000 chargers, 4.8 million power poles, 3,850 charging stations for public buses and 2,500 for taxis will be built in the same period, Tong Guangyi, vice-director of the NEA Power Department, told a meeting in Changzhou city, east China's Jiangsu Province.
China's State Council, the Cabinet, announced a guideline last week on a nationwide charging network.
The move is the latest effort by the government in the new energy vehicle sector, which has grown steadily in the past two years due to subsidies and tax cuts.
According to the guideline, new residential complexes should have charging points or assign space for them, while no less than 10 percent of parking spaces in public parking lots should have charging facilities. There should be at least one public charging station for every 2,000 NEVs, the guideline said.
To finance the project, the government will encourage private investment, allow charger manufacturers to issue corporate bonds, and seek investment from pension funds.
China's State Grid is responsible for building a large part of the new charging facilities. Yang Qing, the company's vice president said at the meeting, that more than 6,000 public fast-charge stations and 59,000 chargers to power some 3.68 million electric passenger vehicles will be installed.
The State Grid will make public charging facilities available in 202 cities. In some major cities, including Beijing, Tianjin and Shanghai, a charging facility will be found within a circle of less than 1 km.
This year, the company plans to start construction of 1,888 fast-charge stations with the aim of putting them into service by the end of June 2016. Currently, 618 stations and 24,000 chargers are operated by the company, actually serving 49,000 NEVs.