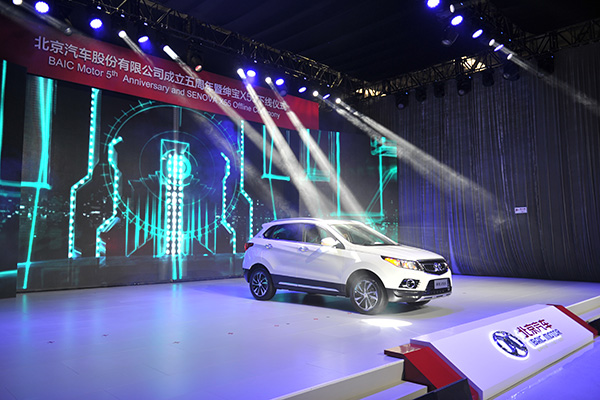 BAIC unveils its new compact crossover Senovo X55 at the fifth anniversary ceremony of the company held on Sept 28. [Photo/China Daily]
JVs plans
The target of Beijing Benz echoed Daimler Group CEO Dieter Zetsche's lofty ambition in 2012 to lead the Mercedes-Benz luxury brand to No 1 ahead of Audi and BMW by 2020.
The joint venture between BAIC Motor, Daimler AG and Daimler Greater China will contribute to that objective through launching a number of new models and implementing new technologies. Beijing Benz' sales volume surged to 103,034 units in the first half of this year, 59.8 percent more than in the same period a year earlier.
However, the sales of FAW-Volkswagen's Audi Division, the longtime luxury market leader in China, declined by 3.6 percent in the first half. BMW Brilliance, the No 2 player, saw only a minor change.
Xu said the partnership has set a model for cooperation between the Chinese and German companies that not only developed the business but also realized benefits for stakeholders.
Beijing Benz's operating profit leaped by 186 percent to 3.6 billion yuan ($567.2 million) in the first half of 2015 from the corresponding period a year earlier, recording net profit of 2.6 billion yuan, with a net profit margin of 8.9 percent, according to the interim report.
The Sino-South Korean joint venture Beijing Hyundai has ranked No 4 in terms of passenger car market share since 2012. With five production facilities, Beijing Hyundai's production capacity is set to reach 1.65 million units and provide nationwide coverage in the near future.
Jia said Beijing Hyundai's target is practical when considering the market situation and its internal strength.
"Beijing Hyundai can hardly challenge a higher rank, as its capacity is just above 1 million units. The two Volkswagen joint ventures (Shanghai Volkswagen and FAW-Volkswagen) and SAIC General Motors are talking about several millions. Behind them, Nissan is close and is accelerating."