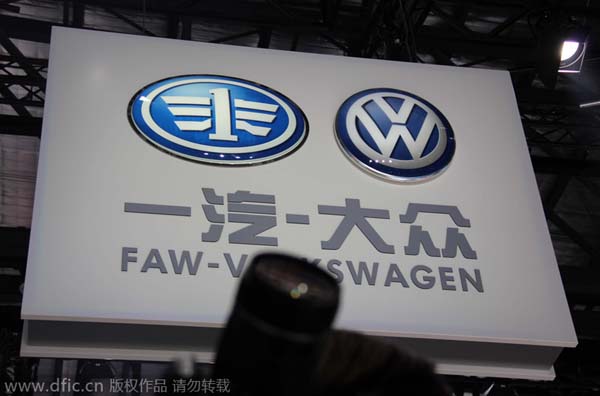 The signage of FAW-Volkswagen is pictured during the 12th Beijing International Automotive Exhibition, known as Auto China 2012, in Beijing, April 25, 2012. [Photo/IC]
FAW-Volkswagen Automotive Co Ltd, once a sales champion in passenger vehicles, saw its car sales drop 11.27 percent year on year in the first half of this year, amid a cooling automobile market in China.
The joint venture of China FAW Group Corp and Germany's Volkswagen Group sold a total of 804,098 passenger vehicles in the first six months, Time-weekly cited FAW-VW's official data on Wednesday.
The slump is partly due to a capacity crunch that resulted from the company's overhaul of production lines, said FAW-VW's spokesman Li Pengcheng.
Another reason is the soaring stock market that has drawn away much of the capital from consumers' pockets, said Li.
But with more new cars rolling out, we expect a rosier picture in the following months, he added.
FAW-VW's drop in car sales is not alone. Other international car makers, such as Chang'an Ford, Beijing Hyundai, Shanghai General Motor, are also experiencing slow demand in China, despite major price cuts.
However, China's home-grown brands, especially new-energy cars, gradually gained share during the same period.
According to data released by the China Association of Automobile Manufacturers, Chinese vehicles bucked the overall trend to grow 14.6 percent year on year, selling more than 4.18 million.
New-energy vehicles more than doubled their sales to hit 72,711 in the first half year.