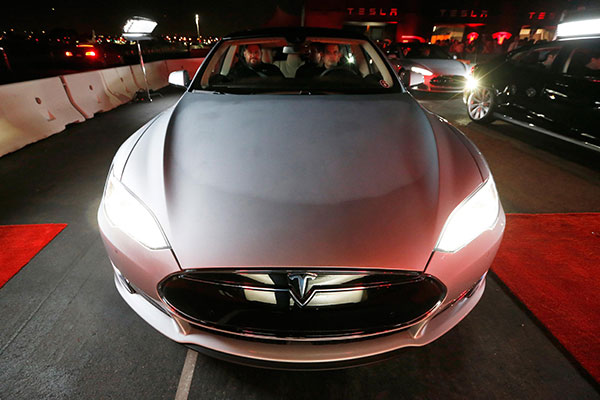 New all-wheel-drive versions of the Tesla Model S car are lined up for test drives in Hawthorne, California in this file photo from Oct 9, 2014. [Photo / Agencies]
BEIJING -- Telsa Motors plans to localize production and engineering in China, CEO Elon Musk told Xinhua on Friday, pledging long-term commitment to the market.
"We have a strong long-term commitment to China, and we tend to establish both local production and local engineering in China," Musk said.
Localization could be possible "in three years", he said.
In the meantime the company has to keep shipping models from the United States to China because their factory is not at full capacity.
Once the factory reaches full capacity, it is "just the sensible logical thing" to "localize production in China for the Chinese market, in Europe for the European market," Musk said.
The California-based electric car maker began taking orders in China in mid-2013 for its largest product, the Model S sedan, and started delivering the first cars to Chinese consumers last April.
However, sales in China last year fell short of Tesla's initial expectations, which reportedly triggered an executive reshuffle for its China team.
Musk acknowledged Tesla had a rough start in China last year. But he also emphasized that the company, founded in 2003, is still in its infancy, despite wide-spread perception that "Tesla is huge".
Meanwhile, he said speculators and scalpers misled the company to believe that the demand for the cars was "extremely high" during the launch. But when the cars arrived, the speculators canceled their orders, leading to excessive inventory.
"China is the only place on Earth that we have excess inventory. We are essentially selling cars that speculators ordered but we are not able to take delivery on," the CEO said.
In this "speculation hangover," which Musk used to describe the current period half-jokingly, Tesla will work hard to focus on its core customers, including addressing the charging anxiety, the No.1 concern of the Chinese consumers.
Tesla is dramatically increasing its super-charging network, and providing all customers in China with mobile adaptors that will allow them to charge anywhere, Musk said.
The company is also improving built-in maps and navigation, with a software upgrade coming out this week. It will integrate the traffic-based routing in the next few months, according to the CEO.
Musk said he has seen a steady increase in sales in China over the past three months and is "quite optimistic about where things are heading".
Tesla will continue to build charging infrastructure and establish a lot more stores in addition to the service centers, according to Musk.
"It is clear that we need to think of China in a very long-term way. We need to steadily boost the confidence of the Chinese consumers," he said.
The CEO doesn't think the economic slowdown in China will affect Tesla's commitment to the market. "China is attractive right now, and in long term," he said.