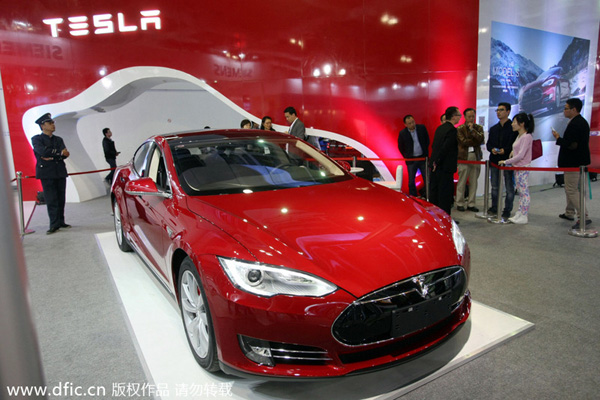 Visitors look at a Tesla Model S electric car on display during the 2nd China (Shanghai) International Technology Fair in Shanghai, April 27, 2014. [Photo/IC]
Tesla Motors said there will not be massive layoffs in China in the near future, denying recent Chinese reports that said the US-based electric carmaker would slash around 30 percent of its employees after missing its 2014 sales goal in the world's largest auto market.
"It is pure speculation," said Gary Tao, Tesla's China communications director. "There were some staff changes at the start of the year but now the changes have been basically finished."
He said the changes were made as part of Tesla's effort to build a strong and efficient team so as to respond more quickly to the market.
Tao said the decision about "staff adjustments" was made by management at the electric carmakers' China operations, instead of a direct order from Tesla's boss Elon Musk, as reported by Chinese newspapers including The Economic Observer.
There have been frequent reshuffles of senior executives since the carmaker entered the Chinese market, with the latest change involving Jin Jun, the chief marketing officer, who quit her job in February. She joined Tesla in September.
"Now the China team is stable and steady," Tao said, but he declined to specify the current number of employees in China.
Tesla sold 4,750 cars in the Asia-Pacific region in 2014. It did not release sales figures in China for the year, but Tao said what the country's Tesla team achieved was remarkable considering its new-energy vehicle market.
Statistics from the China Association of Automobile Manufacturers show that about 7,5000 new-energy vehicles were sold in the Chinese market in 2014. Of them 48,605 were pure electric cars.
The carmaker set its 2015 global sales goal at 55,000 units. Tao said there is currently not a goal for China, but he said Tesla is "very confident" in the Chinese market.
He said the carmaker is updating its service, such as providing cars for customers while theirs are sent for maintenance, and will continue to beef up its charging network to woo Chinese customers.
An insufficient charging infrastructure is believed to be impeding the development of new-energy vehicles in China.
Tao said Tesla has built more than 1,200 public charging poles in the country and plans to build more this year. It now has nine showrooms and service centers in six cities on the Chinese mainland.
The electric carmaker is planning to roll out a cheaper model called the Model 3 in 2017, which many analysts believe might appeal more to customers in the Chinese market. Tao also denied reports that Apple Inc might purchase Tesla.