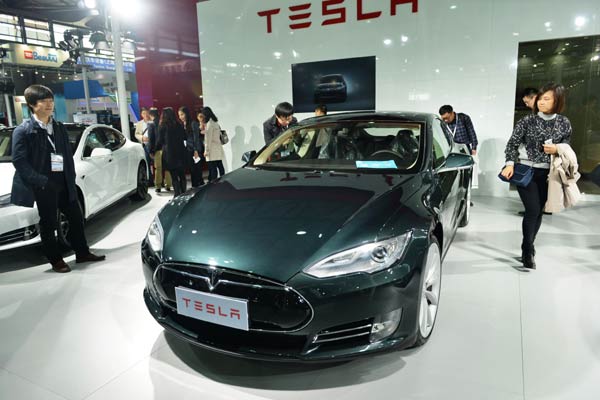 Due to difficulties using land and electric power in China, Tesla focuses on developing a "destination charging" strategy. However, its sales to date have been unimpressive. LONG WEI/FOR CHINA DAILY
Building charging posts at the homes and work places of electric car owners, direct selling and cooperating with third-party partners has helped Tesla localize in China.
The company has made the most of its strengths in what is a totally different market from its home country the United States.
Due to the difficulties using land and electric power in China, Tesla focused on developing a "destination charging" strategy.
It cooperates with third-party partners such as shopping malls, office buildings, banks and hotels. Tesla offers equipment, such as charging posts, and its partners are in charge of installation and maintenance.
Setting up charging posts at people's homes and work places saves time as cars can be charged when drivers are working or sleeping.
Tesla said this strategy saves the company the trouble and cost of building charging posts across large areas.
Tesla said the cooperation was a win-win situation for both sides. For the carmaker, using its partners' space means there is no need to build up its own charging station network.
For its business partners, having charging posts in their buildings attracts more business and customers who support the environmentally friendly concept.
Tesla has also transplanted its direct selling model used in the US to China. This saves on marketing costs that would have otherwise been paid to franchisers.
Although Tesla is a household name in China, the company's sales in the country are unimpressive. Tesla sold about 120 cars in China in January, which was well below its aggressive target, according to Reuters.
Tesla's CEO Elon Musk said the company sold 3,500 cars in China last year.
According to the company's 2014 annual report, it sold 31,650 units globally, 40 percent up compared with 2013. But the rising rate was lower than the expected and made a loss of 294 million dollars.