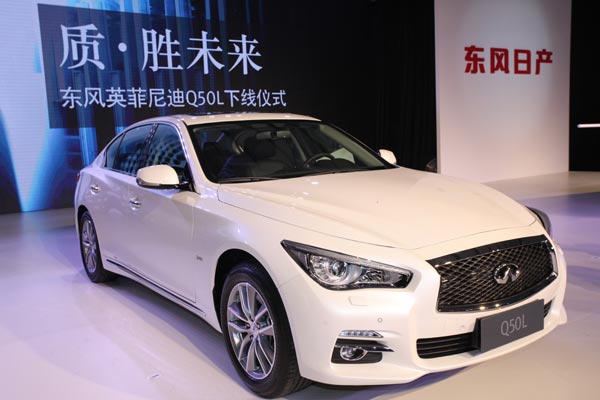 A Dongfeng Infiniti Motor Co's long-wheelbase sports luxury sedan Infiniti Q50L pictured at the new model launch event in Xiangyang city, Hubei province, Nov 6, 2014. [Photo / chinadaily.com.cn] 
Infiniti's first-ever China-made sports luxury sedan Q50L powered by 2-liter turbocharged engine rolled out on Thursday in joint venture plant Hubei province, and the factory is set to produce 60,000 Infiniti cars annually.
The localized Infiniti Q50L's body length reaches 4.85 meter, 50 millimeters longer than Q50, and its wheelbase extends 48 mm to 2,898 mm. The newly launched model maintains the same high-spec as the imported Q50, equipping a 2-liter four-cylinder turbocharged engine and 7-speed automatic manual gearbox, and its innovative Direct Adaptive Steering, or DAS.
Infiniti will stop importing its first turbo model Q50 2.0T, debut in November last year, but will keep importing Q50 3.7-liter and hybrid versions.
President of Dongfeng Infiniti Motor Co Daniel Kirchert said: "The local plant applies Infiniti's global standard, and its rigorous control system in process and quality ensures the Q50L has the same quality as the imported Q50."
"It reveals Infiniti's strictness in the high quality," he added.
Dongfeng Infiniti Motor Co Ltd is a 50-50 joint venture set up in September this year between Chinese Dongfeng Motor Corp and Japanese Nissan Motor Co Ltd. Infiniti Motor Co, headquarters in Hong Kong, is the premium brand in the Renault-Nissan alliance. Naturally, Dongfeng Infiniti and Dongfeng Nissan Passenger Vehicle Co are local strategic partners.
Infiniti car model's localization plan started in May 2012, ahead of the joint venture set up, taking advantage of the flexible production in Dongfeng Nissan's Xiangyang plant in Hubei province. The plant was built in 2004, one year after Dongfeng Motor Corp and Nissan Motor Co Ltd set up the joint venture in 2003.
Dongfeng Nissan has supported the production of Q50L in research and development, procurement, and manufacturing, and the management in the value chain is expected to guarantee the quality of the new model.
Xu Ping, Chairman of the board of Dongfeng Infiniti, said: "Dongfeng and Nissan join hands again and integrated their resources to support with all efforts the local production of Dongfeng Infiniti." Xu is also the Chairman of the board of Dongfeng Motor Co.
In the past two years, about 600 million yuan ($98 million) was put into the plant. Hundreds of processes were added for Infiniti models, and more than 60 producing and examining equipment were put into use.
After a large-scale upgrade, the plant is now at the same level as Q50 benchmark production base in Japan. It becomes Infiniti's third global production base.
Susumu Uchikoshi, Dongfeng Nissan General Manager, said the localized Infiniti long-wheelbase QX50 SUV is also on its way, "it will come off the production line earlier next year."
Dongfeng Infiniti will flexibly distribute the annual 60,000-unit capacity between the Q50L and long-wheelbase QX50 models.
Kirchert said: "It is a milestone in Infiniti's long-term development and the localization. We have confidence in the localized Q50L's competitiveness and the future performance in the market."