Charity Special: Infiniti's Gan Ai Planet initiative aids the autistic
On Sept 26 in Shanghai, Infiniti launched a corporate social responsibility program for children with autism called Gan Ai Planet, becoming the first automaker focusing on the disorder characterized by severe deficits in social interaction and communication.
Gan ai means dare to love in Chinese.
Cooperating with the Shenzhen-based One Foundation with an initial investment of 6 million yuan ($977,600), Infiniti said it will work to foster an environment of fairness and respect for the group.
It plans to establish a long-term public welfare initiative with wide social participation.
The program will include training courses for autistic children's parents and teachers, public awareness campaigns and advocacy of related policies.
Daniel Kirchert, president of Dongfeng Infiniti, said the company not only provides excellent products and services for its customers, but also develops corporate programs that repay society in the long run.
Both partners will cooperate under One Foundation's Ocean Heaven Project, which aims to establish a nationwide network of parent centers while organizing regular training and forums. The project is also designed to improve the infrastructure at special-education schools and sponsor training for teachers.
Infiniti started its aid to autistic children with its retailers and car owners even before the launch of the program. It used auto shows and art exhibitions to attract public attention.
At an exhibition for Chinese contemporary artist Cai Guoqiang in early August, the company displayed an Infiniti seven-seat QX60 Hybrid decorated with paintings by 15 children, including eight with autism, who were guided by Cai.
The SUV has been used in the popular TV reality show "Where Are We Going, Dad?".
"The paintings show the same rich and colorful inner world between normal and autistic children," said Kirchert.
The auto executive also led a team of partners, visiting autism experts, organizations and families in an effort to understand actual needs.
"Infiniti is not only a donor, but also a participant that designs, supervises and assesses the entire program," said Li Jin, secretary-general of the One Foundation.
The automaker will develop a welfare network based on its retailers, with the first 16 selected outlets establishing one-on-one relationships with local autism organizations and families by 2015.
"Long-term commitment, real benefits and broad engagement are the three principles of our welfare activities," said Kirchert. "Infiniti has spent so much energy on public welfare programs with only one aim - to gather efforts from all over society to improve the quality of life for autistic children and their families, and do something to win them some respect and care.
"For Infiniti, the program for autistic children is just a beginning," he said. "We will further develop our public welfare platform and increase the engagement of dealers, owners and the public to create a Gan Ai Planet for autistic children and their families."
Chinese actress and Infiniti Gan Ai Ambassador Zhou Xun joined her husband Archie David Kao - who was also named a Gan Ai Ambassador at the ceremony - on the stage to endorse the joint effort by Infiniti and the One Foundation.
A premium brand of Nissan Motor Co, Infiniti was unveiled in 1989 in North America and started selling vehicles in China in 2007. As part of a strategy to expand globally, it moved its global headquarters to Hong Kong in 2012.
With China now Infiniti's second-largest market after North America, the 50-50 joint venture Dongfeng Infiniti Motor Co Ltd was formed between Dongfeng Motor Corp and Nissan Motor Co to further deepen its localization strategy.
Infiniti sold 18,279 cars in the first eight months of the year in China, a 102 percent surge over the same period last year.
At the beginning of the year, the brand unveiled its Gan Ai branding concept that combines the values of the brand and traditional Chinese culture.
zhangzhao@chinadaily.com.cn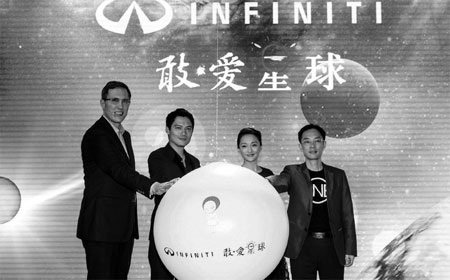 Dongfeng Infiniti President Daniel Kirchert (left), One Foundation Secretary-General Li Jin (right) and newlywed movie stars Zhou Xun and Archie David Kao at the inauguration of the Gan Ai Planet initiative on Sept 26. Photos Provided to China Daily