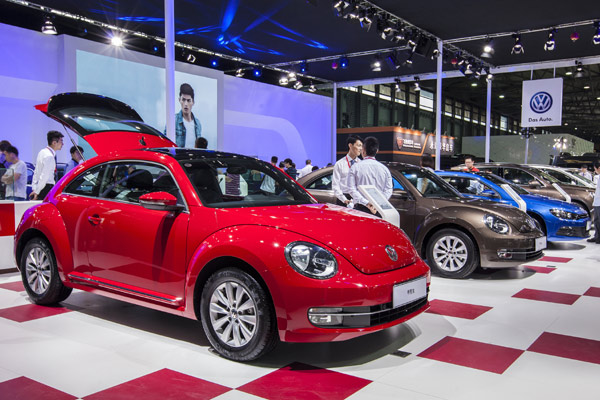 Volkswagen Beetles on display at an auto show in Shanghai in August. China's quality regulator has asked Volkswagen AG to provide technical documents for its recall of almost 600,000 vehicles. [Photo / Provided to China Daily]
China's quality regulator has asked Volkswagen AG to provide technical documents for its recall of almost 600,000 vehicles, the first time the agency has done so since a law mandating timely safety campaigns came into force.
The General Administration of Quality Supervision, Inspection and Quarantine told VW to supply the additional documents for its Oct 17 recall of New Sagitar and Beetle vehicles, according to a statement on the regulator's website. The automaker issued the recall two months after the quality inspector started an investigation into mounting complaints from owners about broken rear suspension axles.
China is stepping up scrutiny of automakers since a law took effect on Jan 1 last year that gave the government powers to order investigations and impose fines should manufacturers and importers fail to recall faulty vehicles in a timely manner.
Regulators are under increasing pressure to intervene before defects escalate into global safety crises, such as the one involving defective air bags made by Takata Corp.
"It was not a mandatory recall, the government more or less reacted to the consumers," said Jochen Siebert, Shanghai-based managing director of researcher JSC Automotive Consulting.
"It's partly to calm nerves," he said. "We can expect these agencies to do more of the same in future."
In June, General Motors Co and its joint venture recalled 194 of its 107 Buick Excelle GT vehicles after the quality regulator found that the high beam could not be turned off under extreme circumstances.
The latest request to VW marks the first time the regulator has asked a carmaker for documentation on a recall since the automobile safety law took effect, based on a review of notices on the website of AQSIQ, as the regulator is also known.
Volkswagen is in "permanent discussion" with the agency and talks are ongoing over the call back, Larissa Braun, a company spokeswoman in Beijing, said on Monday.
VW car owners protested on Oct 26 at Volkswagen dealerships in major Chinese cities such as Shanghai and Shenzhen. Some held banners condemning Volkswagen for being "unconscionable" and others distributed flyers describing their fear of driving the cars. A poster circulating on Tencent Holdings Ltd's QQ social-media service urged Sagitar owners to stage another round of protests in 100 cities on Sunday.
AQSIQ takes the consumer reaction to the Volkswagen recall "very seriously" and will organize a panel of experts to evaluate the company's suggested remedy, the regulator said in its statement.
Manufacturers do not require government approval to conduct voluntary recalls, the administration said. The agency's duty is to monitor the process and evaluate whether the product defect has been eliminated, it said.
The automaker, based in Wolfsburg, Germany, said it will install metal inlays that emit warning noises in case of cracks, leading car owners to protest the proposed remedy as inadequate.
VW is offering to replace the 55 cases of broken axles due to a rear or side collision it has identified in its investigation, Braun said. The company is taking the same measures to repair broken axles in China and the US, where it is also recalling cars, she said.