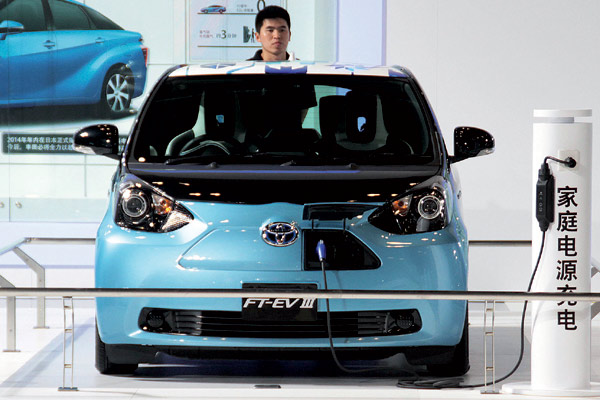 Toyota exhibits an electric vehicle and residential charging pole at an energy conservation show in Beijing on Oct 20. Too few private parking spaces and public charging facilities are among the major hurdles the sector faces in China. [Wu Changqing / China Daily]
Despite sales incentives, lack of charging sites hobbling growth
Some might question the sanity of giving up a license plate in Beijing - yet the majority of winners in a special lottery for electric vehicle licenses have done exactly that.
Traffic authorities in the capital city set up a separate lottery system earlier this year to promote the use of electric vehicles, and 1,424 people were named winners when the results of the first lottery were revealed on Feb 26.
Yet 980 winners, nearly 70 percent of the total, had failed to buy electric vehicles by the time their rights expired on Oct 26, even after the deadline was extended by two months.
An official in charge of promoting new-energy vehicles in Beijing told China Business News that the lack of charging infrastructure was the major culprit. Some 40 percent of plate winners gave up the chance because there is no realistic place for them to charge a vehicle.
Many who want to install private charging poles do not have their own parking space, said Xia Baoshan, deputy president of the Beijing Association of Automobile Manufacturers.
And even if they do, it is difficult to persuade property management companies because there is no monetary incentive, but more importantly, no standards on how to install equipment, he added.
So local authorities are stepping in. A new regulation said property developers must ensure 18 percent of parking spaces in new or renovated communities in Beijing have charging outlets. Yet many believe it will take some time for the policy to show its results.
The move follows a plan by the Beijing government to install 1,000 public fast-charging stations by the end of the year in both downtown and suburban areas.
A People's Daily report said there are only four public charging stations for private vehicles across the city besides those provided by dealerships in the suburbs.
At two of those stations, vehicles are hit with a 50 yuan per hour parking fee in addition to the electricity bill, the report said.
Even then charging stations said they are losing money.