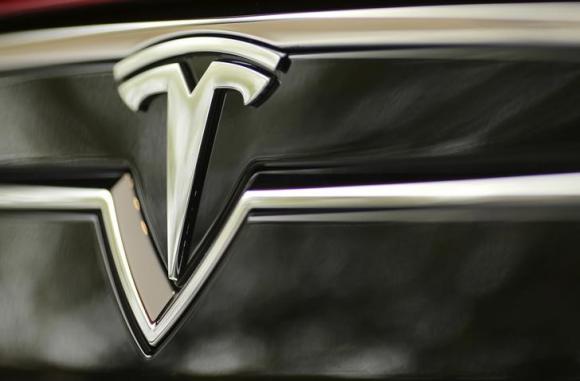 A Tesla Motors logo is shown on a Tesla Model S at a Tesla Motors dealership at Corte Madera Village, an outdoor retail mall, in Corte Madera, California May 8, 2014.
Reuters - Tesla Motors Inc said on Wednesday it will name its planned small car, intended to move the electric car maker into a broader consumer segment, the Model 3.
The vehicle will go on sale in 2017 and compete with BMW's 3 Series sedans.
The Model 3 will be priced starting at $35,000, or half the starting price of Tesla's first mass-market car, the Model S sedan.
Tesla Chief Executive Elon Musk has said the new car will have a driving range of about 200 miles on a full charge. Musk has also said the new vehicle will be about the same size as the BMW 3 Series.
The smaller car is the third generation of Tesla vehicles, following the Roadster sports car which had limited production and two vehicles built on the same underpinning architecture: the Model S, introduced in mid-2012, and the Model X. The latter is expected to go on sale in 2015.
US consumers can lower the cost of electric vehicles with a $7,500 federal tax credit and some states including California offer state tax credits as well.
The name of the new vehicle was initially reported by British publication Auto Express.
A Tesla spokeswoman confirmed the vehicle's name on Wednesday. It had previously been referred to as the "Gen III" car. Tesla's focus "continues to be on Model S and preparing for the introduction of Model X," the spokeswoman added.
Model X is a crossover vehicle built on the same architecture as the Model S. Musk said in May the company expects sales of the Model X to begin in the second quarter of next year.
The Model S, which was launched in June 2012, has an Environmental Protection Agency-rated driving range of 208 miles with its smaller battery pack and 265 miles with the larger one. The smaller-battery model starts at about $70,000 and the larger-battery Model S starts at about $80,000. Many Model S cars sell for more with added options.
Tesla shares were down 0.1 percent at $219.38 at midday on Wednesday on the Nasdaq. That compares with a share price of $104.50 about a year ago.