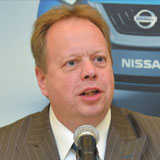 Andy Palmer, Nissan's chief planning officer
In China, we have three brands including Nissan, Venucia and Infiniti.
Why do we achieve success here? Frankly speaking, I think the success has nothing to do with the depreciation of Japanese yen. Nissan is highly localized.
It will always sell products in the place they are produced.
I think the reason for the brands' success is our concept as well as the innovation and passion we are constantly bringing to our customers.
Besides, we focus on the development and improvement of the brand itself. Here, we cooperate well and closely with Dongfeng Motor Corp, which is another reason for our success. Speaking of the future, the successful cooperation will continue and Nissan's sales will keep increasing.
As the largest Japanese automaker in China, we will continue to maintain this position.
We will bring more advanced technologies and models for long-term development in China.
Nissan is dedicated to bringing customers innovation and passion, while Hyundai has different targets.
For example, Hyundai's Bluebird concept car, which had its world debut today, focuses on the future Chinese market, not the current one.