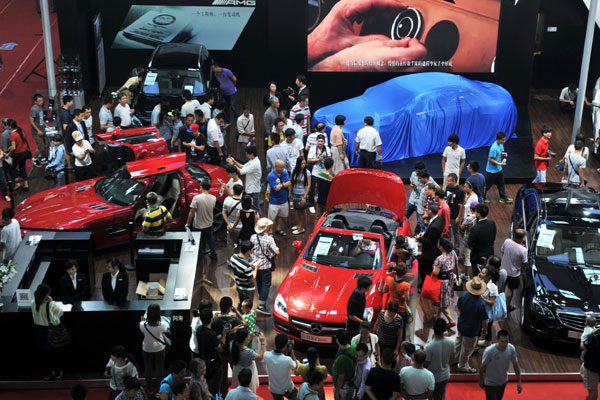 Visitors at an international auto show in Liuzhou, Guangxi Zhuang autonomous region.[Li Bin / Xinhua]
LONDON - The outlook for global automobile manufactures remains stable, as the continuous market growth in China and the recovery in Western
Europe
will offset the ease of demand in some emerging market, said Moody's Investors Service in a report on Thursday.
"We revised our growth forecasts for global light vehicle sales to 3.2 percent in 2014, from 4.8 percent earlier, mainly because of lower demand levels this year in emerging markets, namely Brazil, Russia and India," said Falk Frey, senior vice president at Moody's Corporate Finance Group via its industry assessment report.
But the credit rating company expects China to continue posting relatively robust growth of around 8 percent in its auto market over the next two years, while Western European light vehicles sales will "chug along" at about 2 percent growth on their path to recovery from pre-financial crisis levels, said Frey.
The credit rating company also projects a 4-percent increase in light vehicles demand in the US market this year, down from 7.5 percent in 2013.
Moody's noted that it would consider revising the outlook to positive if the rating agency's global light vehicle growth forecast exceeds 5 percent in the next two years.
Otherwise, if global volume growth falls below 2 percent, alongside with pricing declines and capacity utilization rates deteriorate, the credit rating company would revise the outlook to negative.
China, US car buyers trust contrasting sources