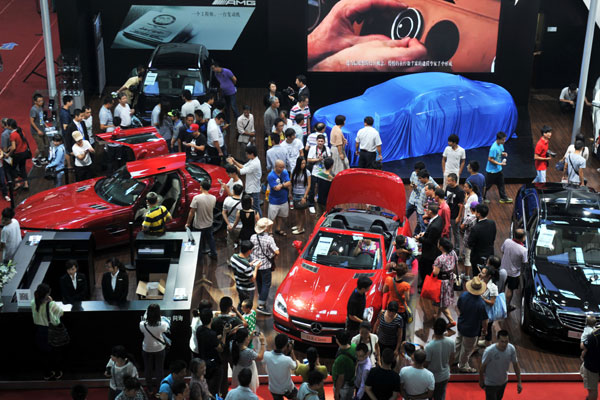 Visitors at an international auto show in Liuzhou, Guangxi Zhuang autonomous region. Chinese drivers bought 1,881,835 cars,mini-vans and other vehicles last month, up 10.1 percent year-on-year. [Li Bin / Xinhua]
BEIJING - Almost one third of Chinese car buyers see consumer-driven content, such as automotive blogs or reviews, as their most trusted source of information when buying a vehicle, according to a survey by consumer insight company Kantar Worldpanel.
Car buyers in the United States are more likely to be persuaded by traditional marketing, rather than blogs, forums and social media, which are often seen by US buyers as less reliable and "infiltrated" by brands, said the survey, published late on Wednesday.
This is in stark contrast to China, the world's largest auto market, where 31 percent of buyers see consumer-driven content as their most trusted source of information, compared to just 7 percent in the US
The survey titled Automotive Path to Purchase Study (TAPPS) was conducted by global research consultancy TNS.
It showed that brand-controlled sources, particularly television and press ads, are most influential in the US buying process. Almost six in 10 (59 percent) of US car buyers cite these as their most trusted source, compared to 43 percent in China.
Although social media still has a role to play in narrowing down choices, car manufacturers looking to build their name in the US should focus their efforts first and foremost on traditional media, it suggested.
The study also showed TV advertising has the biggest effect in persuading buyers to consult other sources of information, whether that is a brand's website, a car dealership or friends and family.
While most US buyers showed an affinity to American brands -- including Chevrolet and Ford -- the study showed it is actually foreign brands that are most effective in linking up all their different channels to convert interest to purchase.
Honda is most effective at pulling buyers through from initial consideration to final purchase, with Toyota following close behind, according to the survey.
In both the Chinese and US markets, the role of the dealer is also critical in persuading buyers to part with their cash.
Almost four in ten (38 percent) of US buyers and one quarter (26 percent) of Chinese buyers cite dealers as their most reliable information source, it showed.