=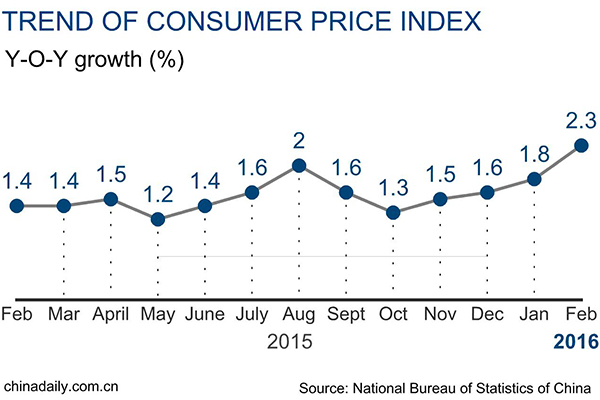 BEIJING - China's consumer prices grew 2.3 percent in February from one year earlier, up from January's 1.8 percent, official data showed on Thursday.
The reading beat expectations as economists from the Bank of Communications and China Merchants Bank forecast a 1.8-percent year-on-year increase for February.
The consumer price index (CPI), a main gauge of inflation, grew 1.6 percent month on month, the National Bureau of Statistics (NBS) said in a statement.
HSBC analyst Qu Hongbin attributed the higher-than-expected CPI growth largely to high food inflation.
Food prices, which account for one-third of the CPI calculation, soared 7.3 percent year on year while non-food inflation edged up 1 percent.
Pork prices jumped sharply by 25.4 percent year on year, contributing 0.59 percentage point of CPI growth, while vegetable prices skyrocketed by 30.6 percent, accounting for 0.86 percentage point of CPI growth.
NBS statistician Yu Qiumei said that vegetable and pork prices went up due to supply shock during a cold in February and demand for pork and transportation rose around the Lunar New Year holiday, while service prices had increased along with labor costs.
Since this January, CPI data has been based on a new comparison base that takes into account new products and services, reflecting a change in the consumption pattern, according to the NBS. The adjustment slightly tuned down the weight of food.
China's producer price index (PPI), which measures wholesale inflation, dropped for the 48th consecutive month to 4.9 percent year on year in February, narrowing from the 5.3-percent drop in January and 5.9-percent in December.
Qu attributed the easing contraction to stabilizing commodity prices during the period.
Month on month, producer prices in February edged down 0.3 percent.